www.laberge.info
My
Sammon Family
Line
Thomas Sammon
B: Galway, Ireland
W: Marcella O'Brien
B: Galway, Ireland
Thomas Sammon, Jr.
B: 02 Jun 1817
Galway, Ireland
M: 1849
W: Julia Ann McKenna
B: 1827
New Jersey
Edwin F. Sammon
B: 1868
Rockford, Ill
M: 1895
W: Emma Duffy
B: 22 Apr 1872
Janesville, WI
D: 16 Aug 1955
Bayard, IA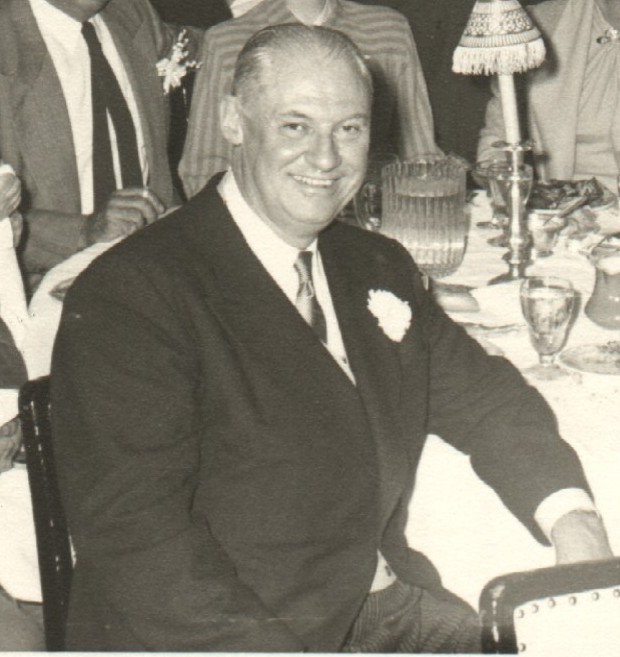 Howard (Bud) Sammon
B: 31 Aug 1897
Bayard, IA
M: 01 Sep 1924
Chicago, Ill
D: 26 Feb 1965
Palm Desert, CA
W: Marion Ruth Haggerty
B: 05 Mar 1902
Chicago, Ill
D: 18 Nov 1995
Lake Forest, Ill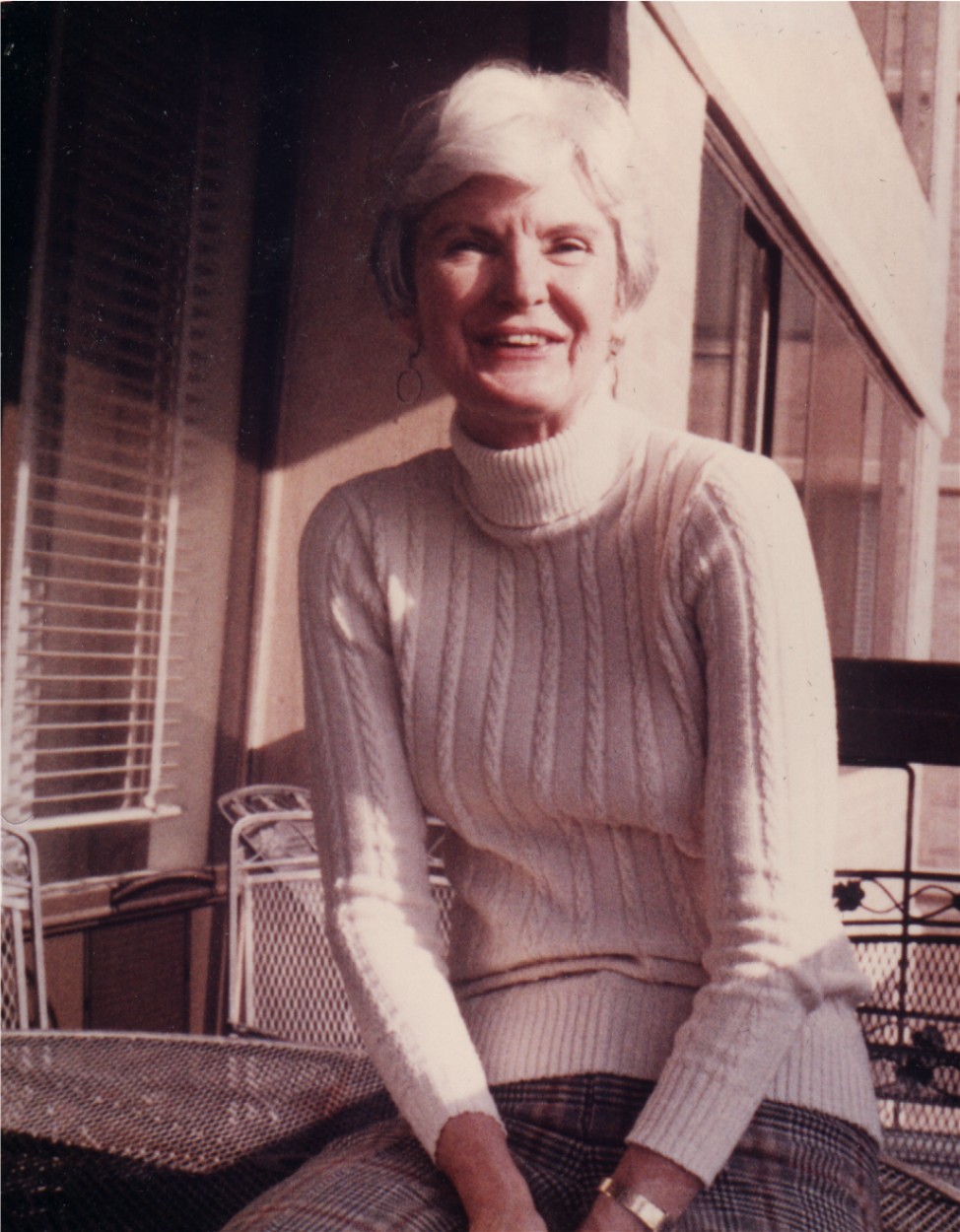 Patricia Anne Sammon
B: 31 Jul 1925
River Forest, Ill
M: 05 Sep 1949
River Forest, Ill
D: 20 Mar 1982
Aptos, CA
H: Walter Barber LaBerge
B: 29 Mar 1924
Chicago, Ill
D: 16 Jul 2004
Aptos, CA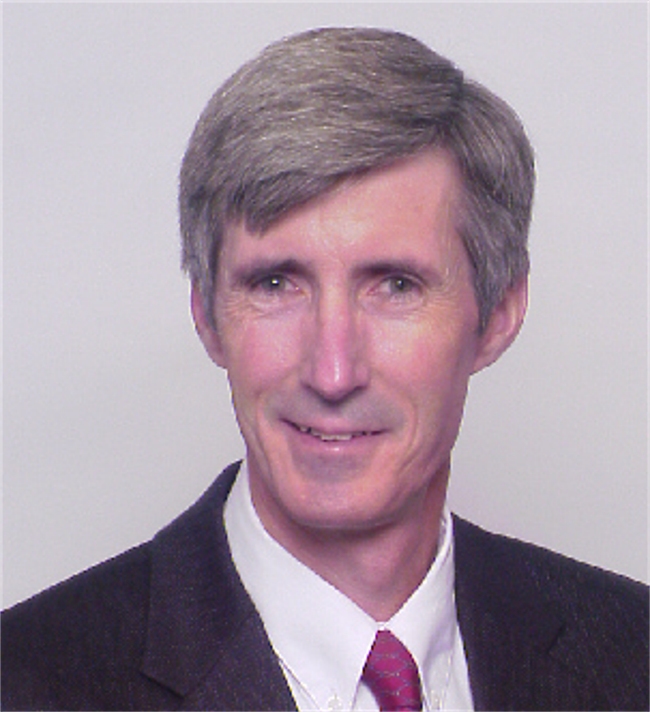 Philip Charles LaBerge
B: 2 Sept 1957
Palo Alto, California
W: Lois Elaine Foster
B: 23 June 1959
Midland, TX
Name: Philip Charles LaBerge
Father: Walter Barber LaBerge
Mother: Patricia Anne Sammon LaBerge
Sammon Family Line
Where did the Sammons come from in Ireland? Thomas Sammon came over
from Galway. My uncle Mike Sammon thinks they came from the city of
the town of Garbally. Here is a brief history of the family that he wrote:
Location of Garbally, Ireland (53.321778, -8.241252)
Cemetery location: (53.329771, -8.202555)
Garbally College www.garbally.ie
Here is a map showing the number of phone listings of Sammons by
county (found on eicomphonebook.ie)
Sammon Residential Phone Listing By County
I have also attached a population density map. The greatest numbers
are in the Dublin/Kildare/Wicklow area and the Clare/Galway/Mayo area.
Population Density Map by County
1790's: Thomas Sammon, Sr. is born around the 1790's in Gallway, Ireland.
1817: On June 2nd, Thomas Sammon, Jr. was born in Galway, Ireland.
1836: Thomas Sammon, Jr. emmigrates to the United States, nine years
prior to the Irish Potato Famine.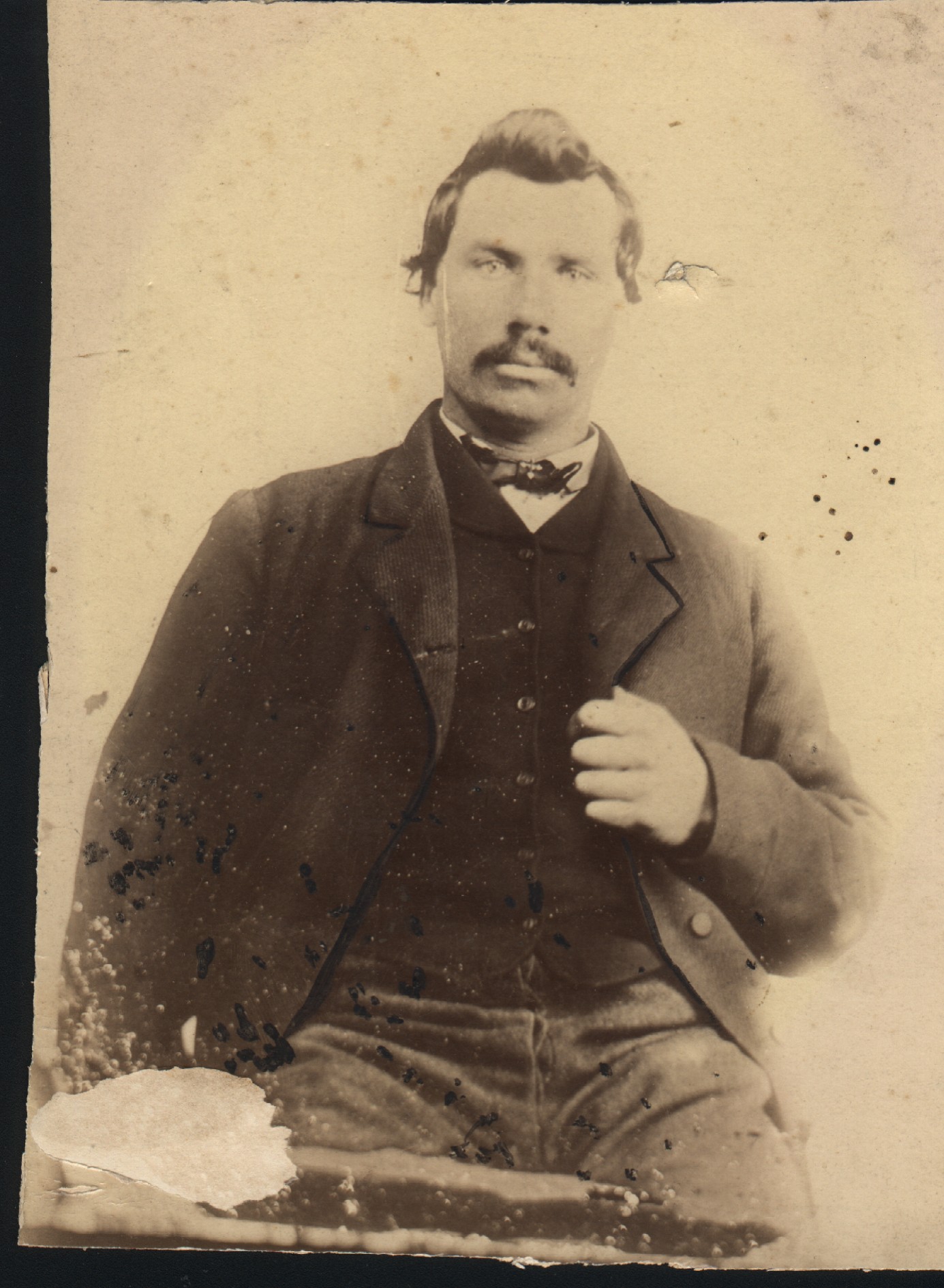 Thomas Sammon, Jr. was the son of Thomas and Marcella (O'Brien) Sammon. He emigrated to the United States in 1836, settling in Philadelphia, where he learned the tailor trade; remained there five years, when he removed to Cincinnati, and from there to St. Louis, working at his trade in both those cities about one year. He then went to Galena, Ill., where he remained twelve years, then going to the vicinity of Rockford, where he farmed till 1875.

1845 - 1852: The Great Famine in Ireland, or the Great Hunger was a
period of mass starvation, disease, and emigration. It is also referred to as the Irish Potato Famine, because about two-fifths of the population was solely reliant on this cheap crop. During the famine, approximately one million people died and a million more emigrated from Ireland, causing the island's population do fall by between 20% and 25%.

1849: Thomas Sammon. Jr. marries Julia McKenna in Galena, Illinois.

He was married in Galena, Ill., in 1849, to Miss Julia McKenna, a native of New Jersey. They had seven children--John, William, Thomas J., Timothy, Edwin, Margaret and Julian. He owned one hundred and sixty acres of good land, mostly under cultivation. He enlisted in Captain Crow's company.

1865: The Civil War ends on May 9, 1865.

1868: Edwin F. Sammon is born in 1868 in Rockford, Illinois.

1875: Thomas Sammon, Jr. along with his wife and seven children
move to Bayard, Iowa.

The Sammon family settled on section 2, in Highland township.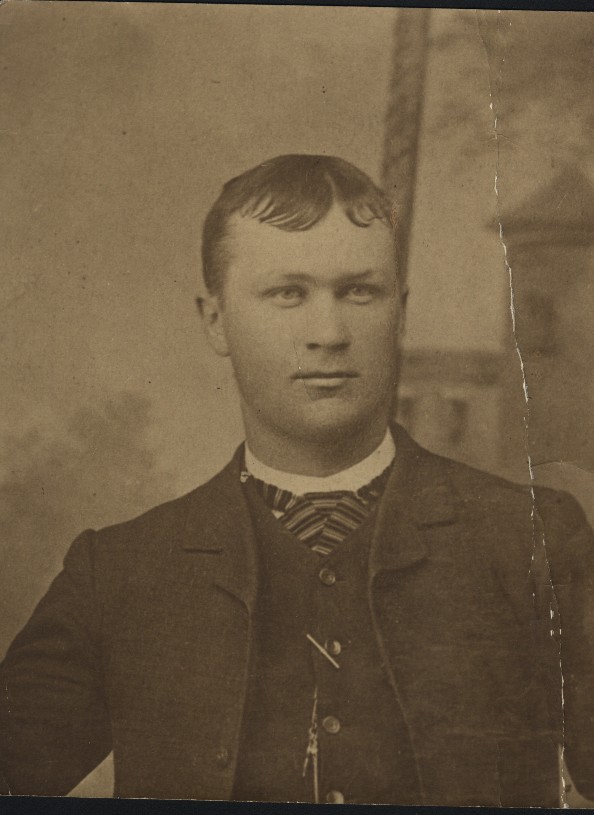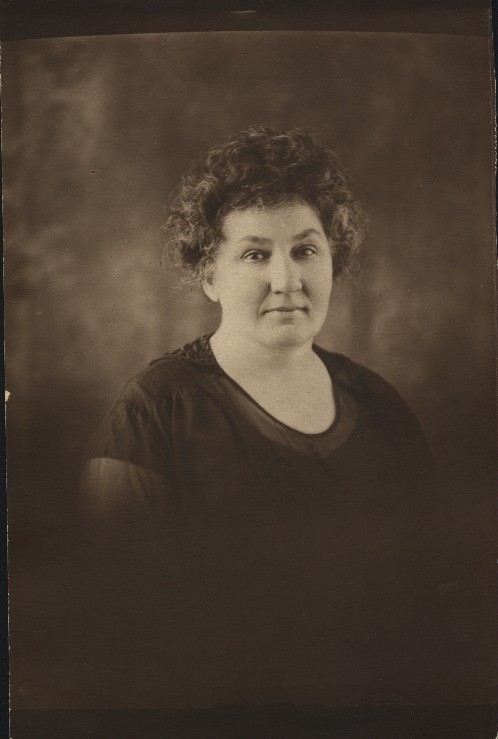 Edwin Sammon and Emma Duffy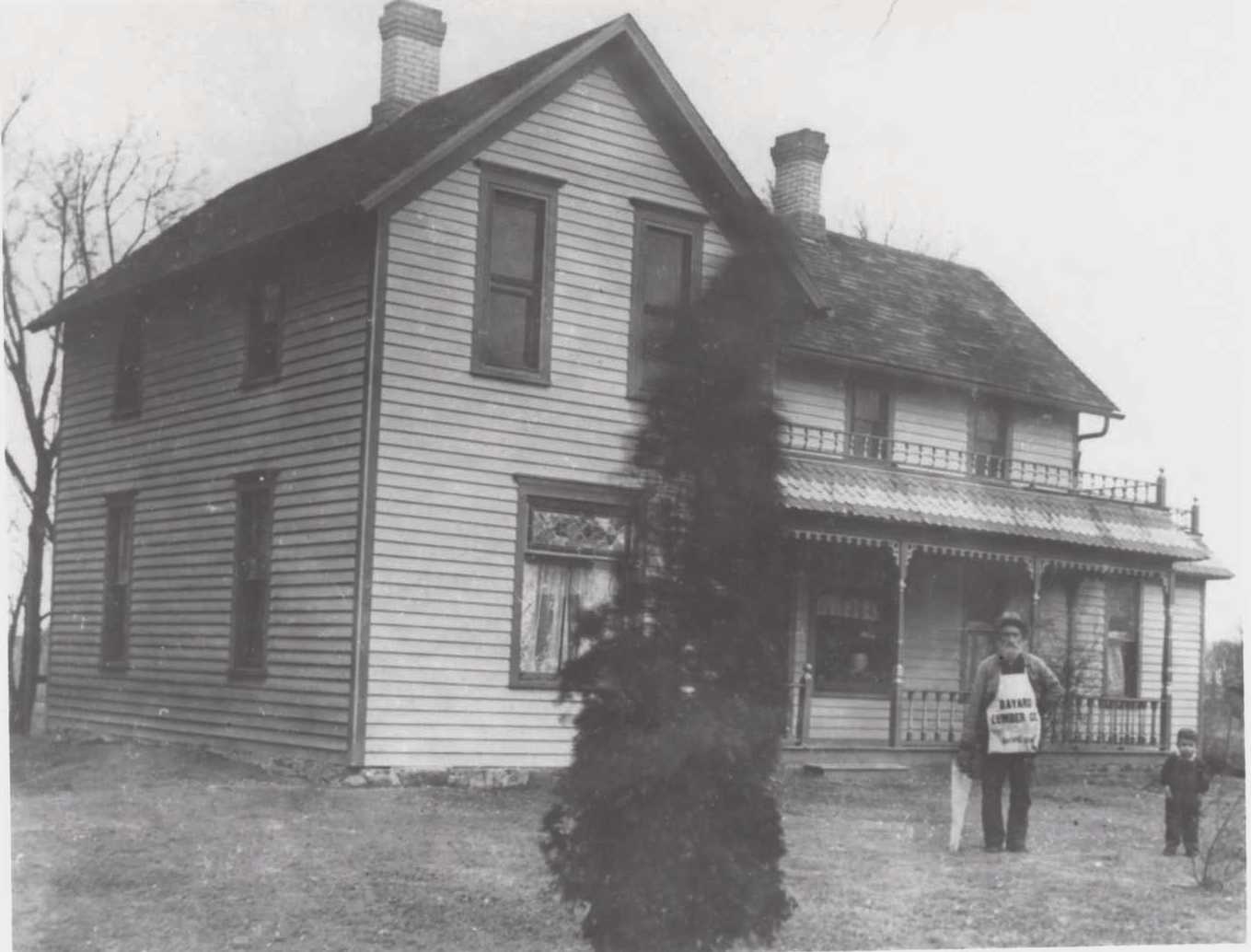 The Sammon family home in Bayard, Iowa. The house no longer exists.
Where the house used to stand: 41.849182, -94.537012
Edwin Sammon's farmhouse was a comfortable one. It was built with the help of the town carpenter and local character Old John Palmer, age 90 years plus or minus a few. That John didn't tolerate "putting on airs" or "party manners" is hinted at by another of Howard Sammon's endless anectdotal stories from his early memories of life in Bayard. It was at lunch with the farmhands one day that John became impatient for a dish to be passed his way. He simply called down to the end of the table, "Ed, pick the flies out of the gravy and pass it around to the boys." Needless to say, that command quickly became an "in" joke in our family.
Ed and Emma's family of four children, Howard (Bud), Marie, Edwin (Ted), and Madeline, grew tall and prospered as did the corn planted in the rich, cleared fields. The Sammon farm numbered 400 acres, planted mostly in corn in those days before the knowledge of the wonderful soya bean changed the crops of Iowa.
Ed Sammon can best be described as a gentle, kind, and very verbal man. Not only did he communicate abundantly in the verbal mode, but his written communication was enormous. He did like to talk, but he wasn't too good at listening and frequently was caught with his hearing aid turned down in the midst of an ardent discussion - one sided, of course. When Patricia Sammon was thirteen, she sat on the porch with Grandpa Sammon at their Des Moines home (where they moved later in life). After about a half hour or so, he'd always say, "Well Patty, I think I'll just saunter down to the poultry market (Ted Sammon owned the local poultry market) and have a talk with the boys." These talks always lasted until dinner time and Patricia often wondered whether there was that much to talk about. Grandpa had opinions on politics (Democratic) and religion (Catholic, of course) and just about anything else including the weather, which was the farmers constant concern (it was always bad).
1897: On August 31st, Howard (Bud) Sammon is born in Bayard, Iowa.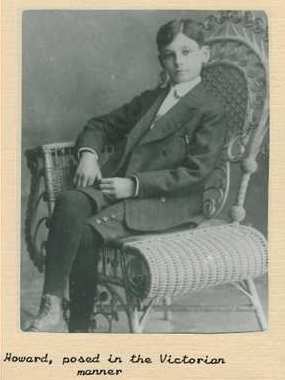 Howard Francis Sammon, born 1897, the first son of Ed and Emma must have been born with a determination to succeed in this world as his story is pure "Horatio Alger" almost from the beginning. Bud, as he was called on the farm, must have been about ten years old when he was sent out on the farm to round up Grandma's geese (she raised them and plucked the down for feather beds). It was cold and starting to rain as Bud was chasing the elusive fowl, a train (the Rock Island Line) came whistling along the track that bisected the family farmland. As Bud stopped to watch, it slowed slightly and as the last car, a posh pullman, moved past, the cold, wet ten year old boy could see robust gentlemen and their elegant ladies dining under chandeliers and served by black porters in white uniforms. That did it! Bud vowed he would grow up and go to Chicago and become a banker - and he did eventually, but that's getting ahead of the story.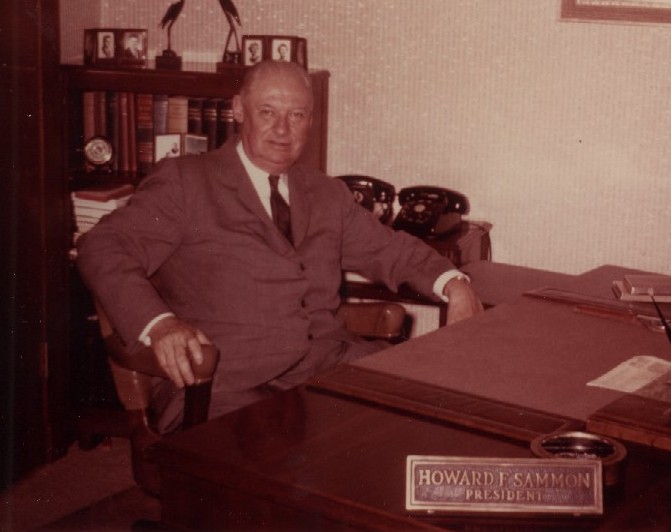 As viewed from a later date in history, growing up in Bayard must have had its hardships, but Howard's stories always dealt with pleasant or whimsical anecdotes. To Patricia Sammon as a child, these seemed endless. They detailed the bizarre goings on at Halloween when outhouses were routinely upturned by pranksters. There was for some time a racetrack near Bayard where Howard and his versatile and inventive cousin Jack O'Brien were reported to have ridden and wagered on occasion. There was the Bayard town band featuring among others, Howard Sammon on the clarinet. Culture was alive and well in Bayard during the last part of the last century as the band played regularly in the town square, most girls took piano lessons, live theater occasionally came to town and of course, the highlight of every season was the appearance of the Greatest Show on Earth - The Barnum and Bailey Circus. After all of the excitement was over, if you were a boy in your early teens, you could always relax behind the barn with your dog. Howard had endless tales to tell about the family pet known in the stories as "Ole Dog Judge". This dog was so talented and intelligent that he must certainly have been an ancestor of Hollywood's famous Lassie as he performed all of those marvelous feats that Lassie movies are so well known for portraying. Patricia Sammon remembers, as a child, many a winter evening curled up in front of the huge fireplace in the Lloyd Wright house as Howard Sammon recounted in vivid detail these many grand adventure stories and reminiscences of his youth in Bayard.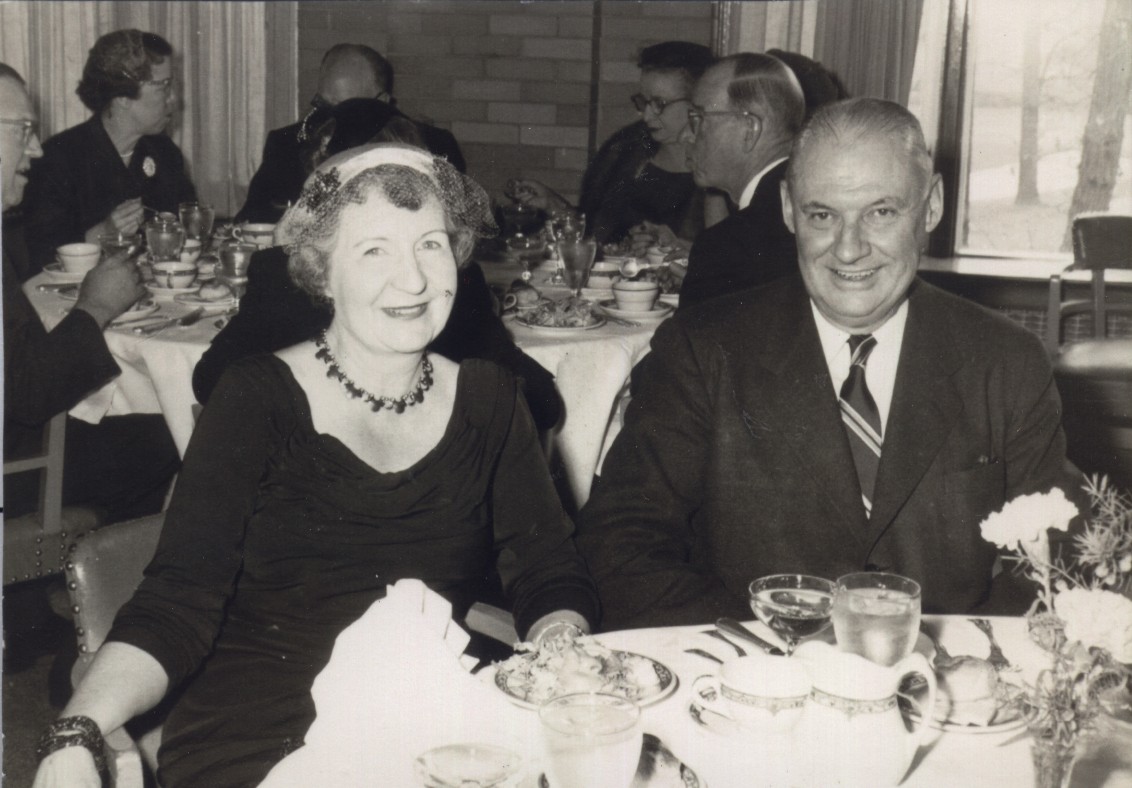 Patricia Anne Sammon was born on July 31st, 1925 in River Forest, Illinois.
She was the first child of Howard F. and Marion Haggerty Sammon. She
attended St. Mary's College. It was there that she met Wlater LaBerge who
had returned from the Pacific in WWII and was working on his PhD in Physics
at Notre Dame. The married in 1949, and had their first child, Peter, in 1950.
It was that year that Walter accepted a position as physicist at the Naval
Weapons Testing Station in China Lake, California. They moved that year.
Pat concentrated on raising a family as Walt's career advanced from being
the project manger for the Sidewinder Missile project, his acceptance as a
manager of Philco-Ford's development labs in the San Francisco bay area,
and then responsibility for managing the construction of NASA's Houston
Mission Control Center. While the family lived in the San Francisco Bay Area,
she returned to school to get her teaching credentials in speech pathology
and was a professor at San Jose State University.
As the family continued to move around the country and over to Europe
following Walt's increasing responsibilities with the Department of Defense,
she accepted positions as a speech pathologist in the public school systems.
She was relentlessly dedicated to the children that she worked with and
made a huge impact in their lives. In early 1981 she was diagnosed with
pancreatic cancer while she and Walt were living in Alexandria, Virginia.
They moved to Mountain View, CA and spent much of their time in Aptos, CA
where they had an apartment by the coast. On March 5th, 1982, they
celebrated the 80th birthday of her mother, Marion Sammon, in Aptos, CA.
She passed away two weeks later.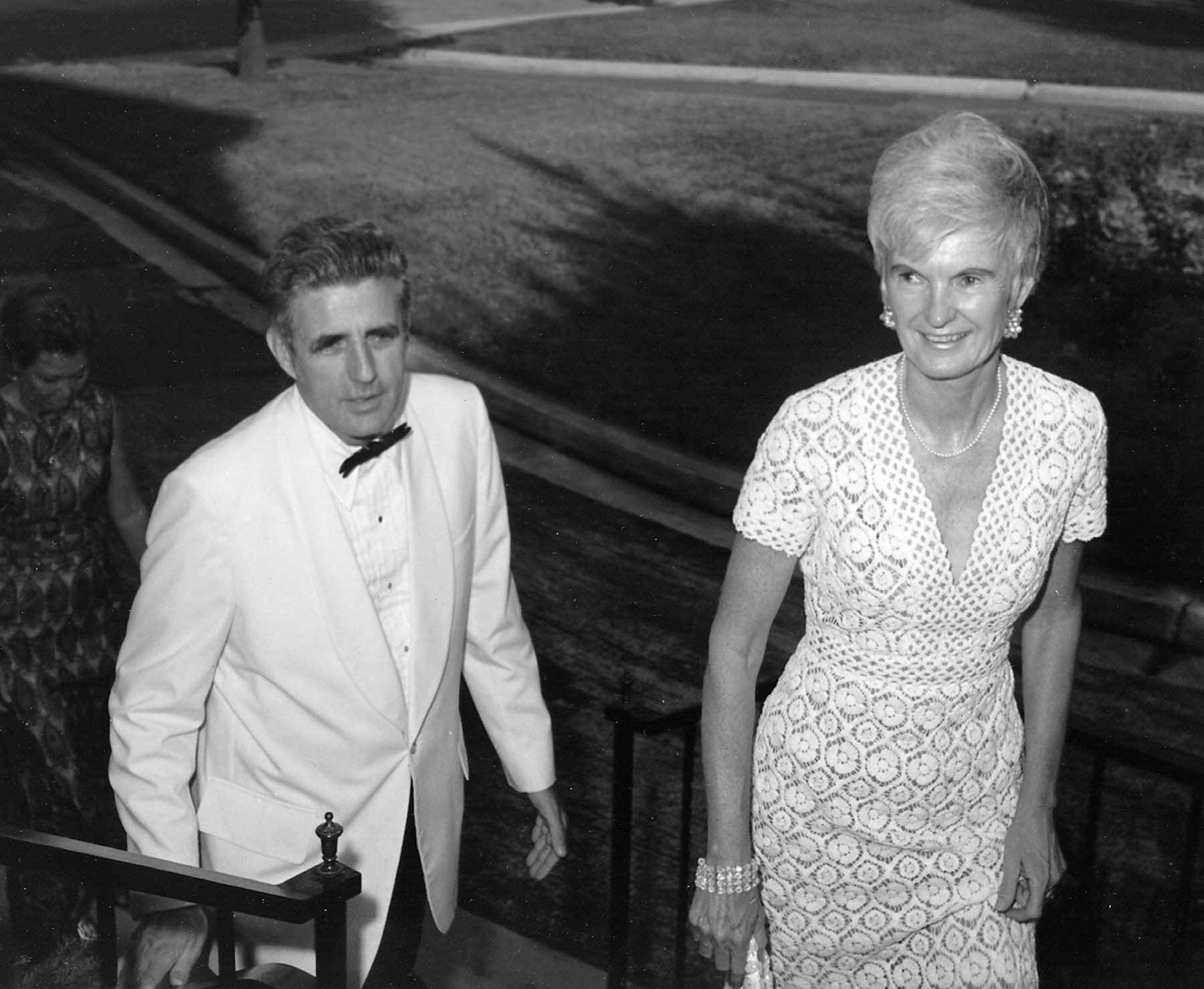 Walt & Pat LaBerge on their way to a formal dinner.