Name: Philip Charles LaBerge
Father: Walter Barber LaBerge
Mother: Patricia Anne Sammon LaBerge
LaBerge Family Line

The mark of Jean de la Berge and his son Jacques de la Berge
dated March 21, 1639.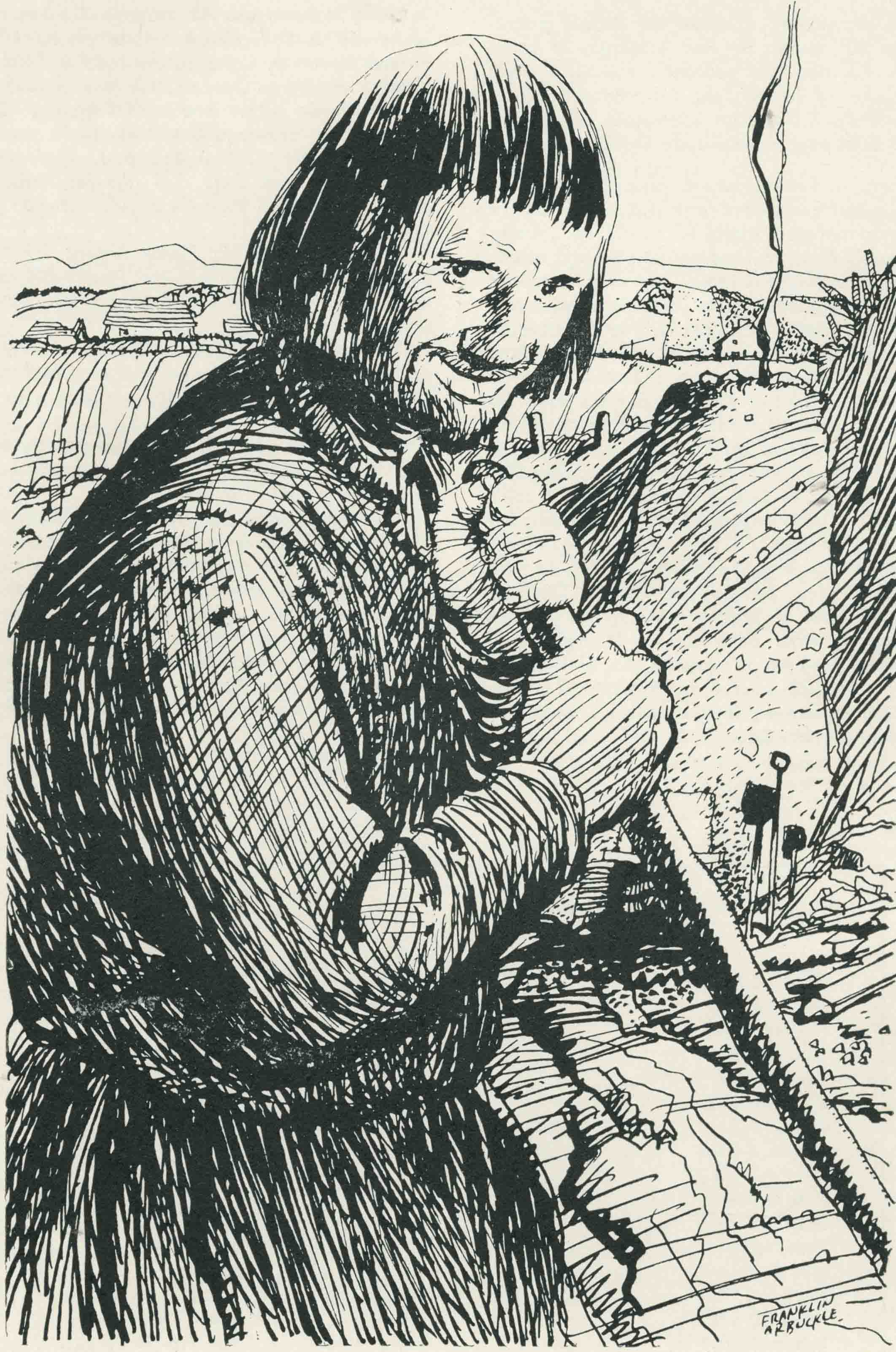 Artistic rendering of Robert de la Berge (meaning we really
don't know what he looked like.) His face, however, bears a
surprising resemblance to many of us.)
Timothée Laberge was the first Laberge to leave L'Ange-Gardien and
settle in the area just south of Montréal in the town of St-Joachim de
Châteauguay which would become the town of Châteauguay. Today,
largest concentration of Laberges are located in that area. If you visit
the cemetery, there are hundreds of Laberges burried there.
1759: On July 31st, the English attacked at Québec at Beauport. On August
29th, Maison Laberge was set on fire. On November 29th, Charles laberge
died. On December 20th, Jacques Laberge died who was the owner of
Maison Laberge. While many Laberges in the Québec City area suffered
and perished that winter, the many Laberges in the Montréal area who were descendants of Timothée Laberge fared much better.
1762: France cedes Louisiana (everything west of the Mississippi north to
Canada) to Spain in the secret treaty of Fountainebleu. A year later the
Treaty of Paris was signed officially ending the Seven Years War.
1776: The United States declare independence.
1808: Joseph Marie Laberge leaves Asomption, Québec for St. Louis. He
soon changed the spelling of his name from Laberge to LaBarge.
1813: On January 2nd, Joseph Marie LaBarge, the father of the famed
steamboat captain, Joseph LaBarge, fought in the battle of River Raisin,
also known at the Battle of Frenchtown. It was the largest battle fought
on Michigan soil. The battle was a major defeat for the Americans and and
was one of the bloodiest engagements during the War of 1812. He fought on
the side of the Americans.
1815: On October 1, 1815, Captain Joseph LaBarge is born in
St. Louis, Missouri.
1822: Pierre Laberge is born. St Constant Birthplace of Armand Laberge.pdf
1825: At the age of 10 years old, the future Captain Joseph LaBarge met
the General Marquis de Lafayette when he visited St. Louis.
1830: On October 27th, Charles E. Coloney is born in St. Albans, Vermont.
1833: On May 13th, Antoine Laberge, Pierre's youngest brother was born.
1838: Jean Baptiste Laberge, The Patriot, is sentenced to death after the
rebellion. His sentence is commuted and he is sent to prison in Australia.
1840: Jean Baptiste Laberge, The Patriot, returns to Canada.
1846: On January 27th Pierre Laberge married Félicité Doumouchelle. They had
seven children.
1855: On November 1st, Félicité Doumouchelle died.
1855-1857: Pierre Laberge is the first mayor of what was the new municipality
of St. Joachim de Châteauguay.
1858: On May 11, Minnesota is admitted as the 32nd state. Charles E. Coloney
and Adelia Matthews had moved there from Akron, Ohio with their son,
Charles E. Coloney, Jr.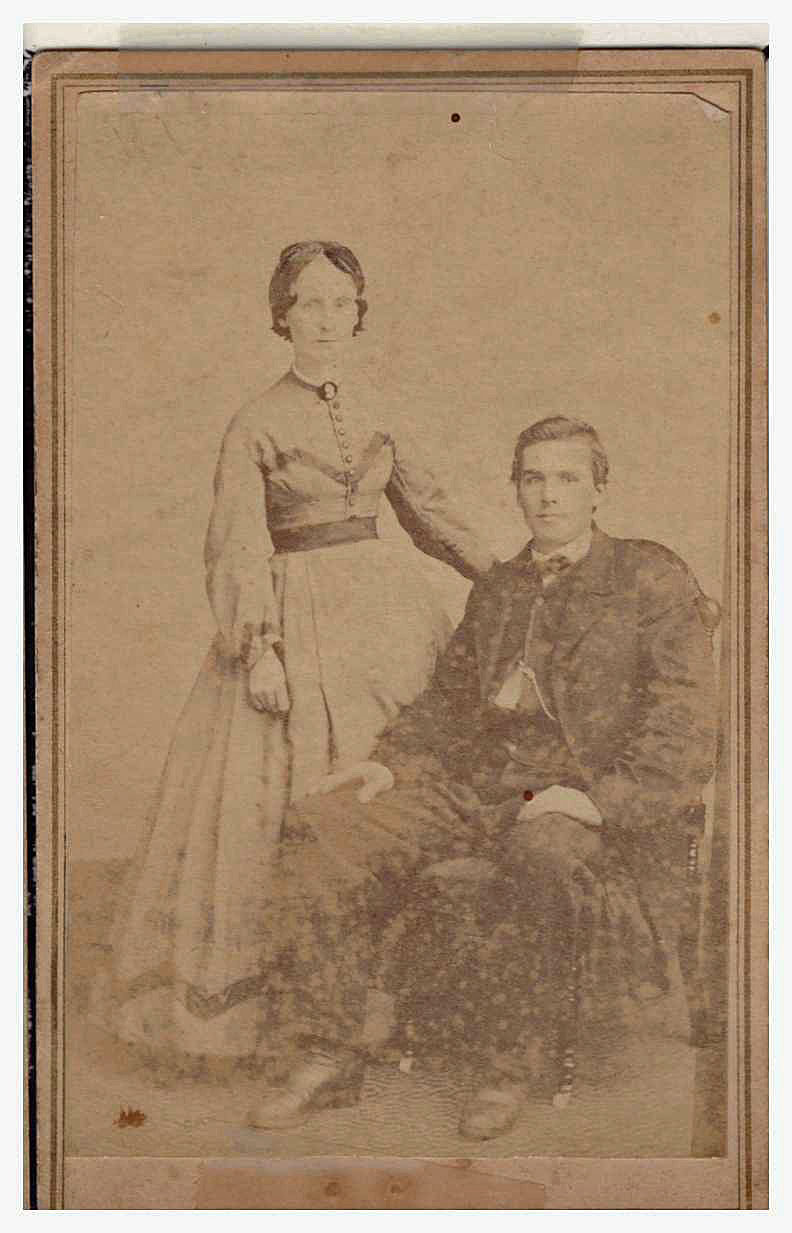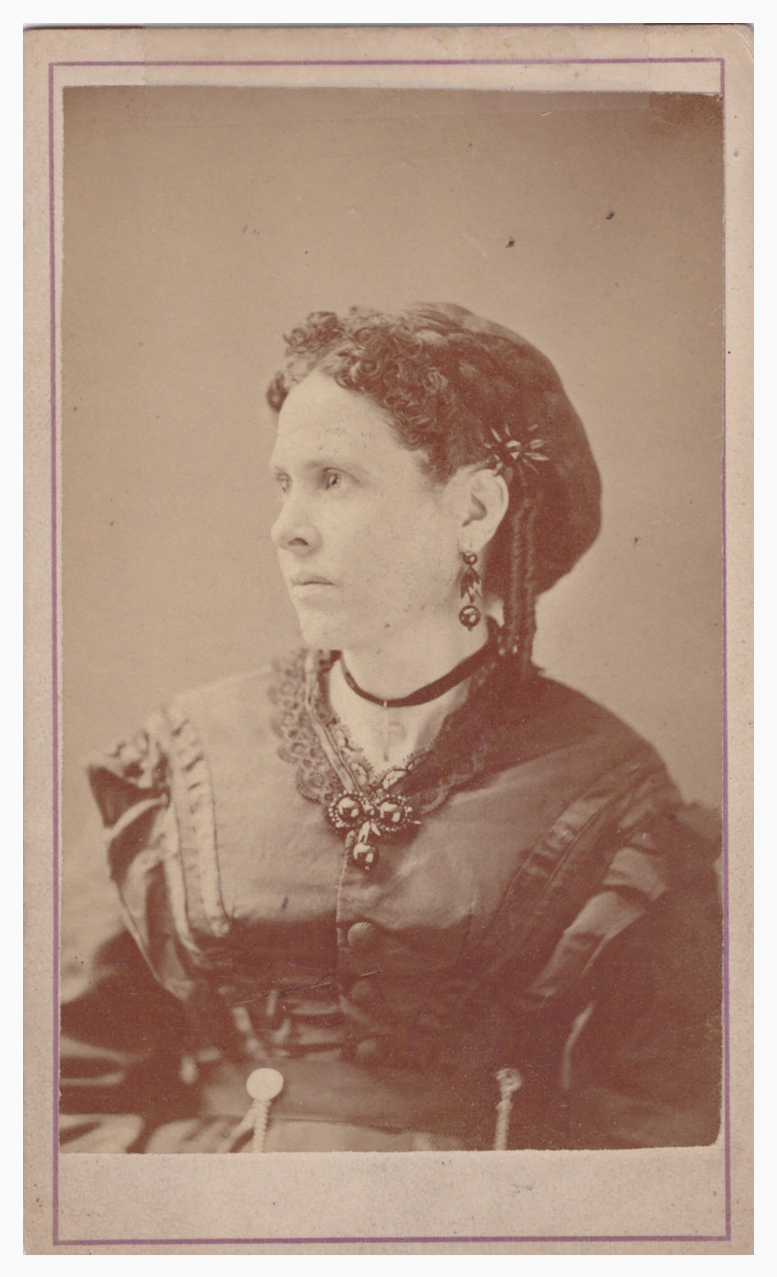 Charles E. Coloney & Adelia Matthews Adelia Matthews
1858: On September 8th, Pierre Laberge married Marie Hedwige Lewis.
1859: Captain Joseph Marie LaBarge teaches Abraham Lincoln how to navigate
a steamboat, The Emilie, on the Missouri River.
1861: In March 4th, Abraham Lincoln is elected. On April 1st, the American
Civil War begins.
1864: On November 16th, Clara Minnesota Coloney is born in St. Louis, Missouri.
The family had recently moved from the recently admitted state of Minnesota.
1865: On April 9th, the American Civil War ends.
1866-1867: Michel Laberge explores the Yukon and then returns to live the
rest of his life in Châteauguay.
1872: Pierre Laberge along with his wife, son and three daughters by his
second marriage leave for St. Joseph, Missouri.
French Canadian Emigration to the United States: 1840-1930
1878: Photo below of Clara Minnesota Coloney at the age of 14 in St. Louis,
Missouri.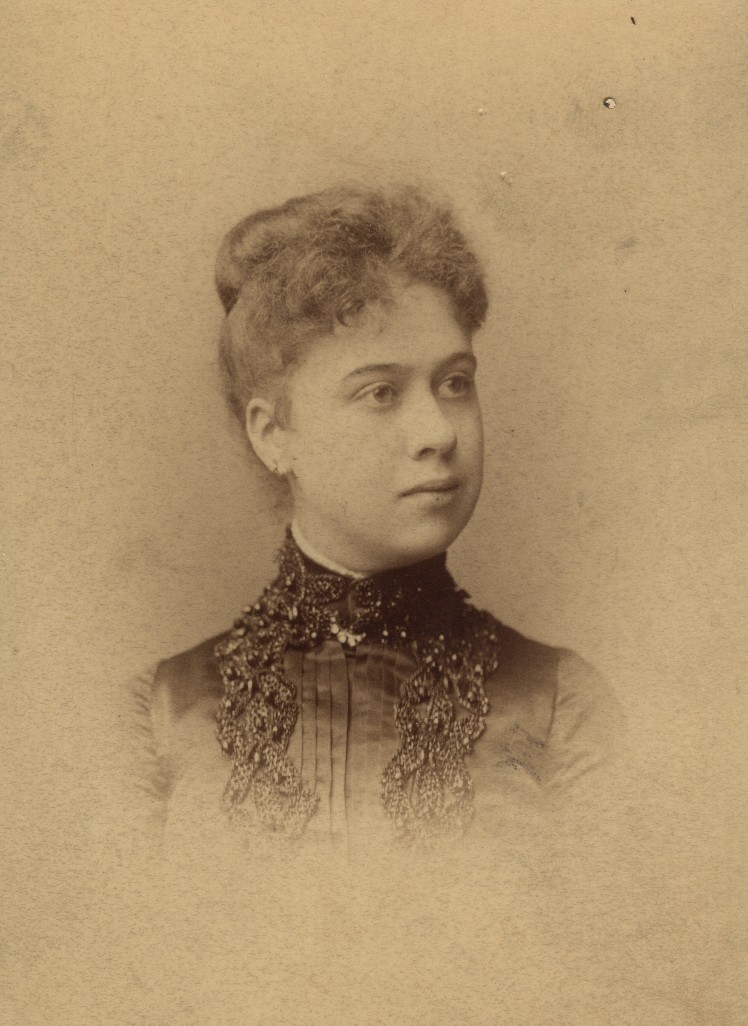 Clara Minnesota Coloney - 1878
1882: Tintype photo taken of Pierre Laberge in about 1882..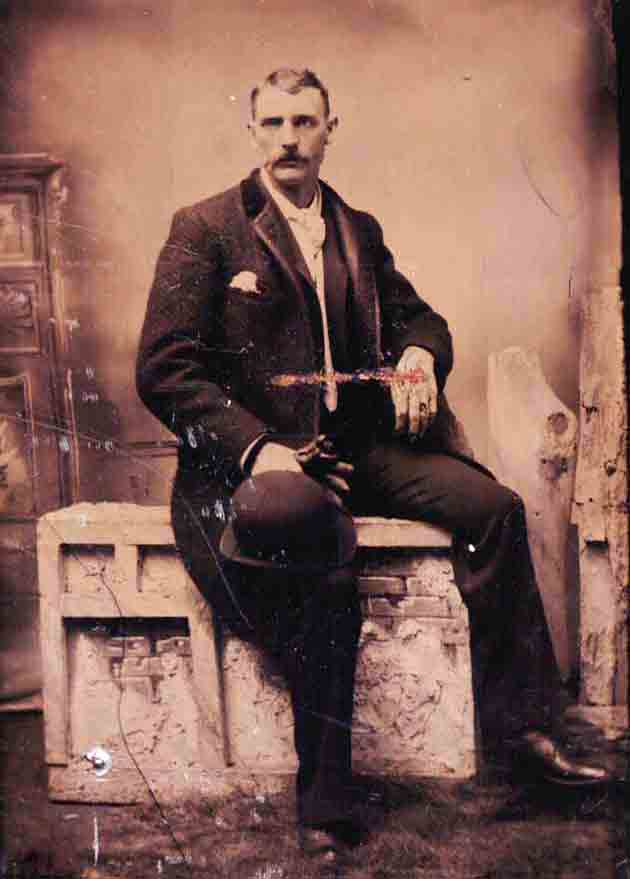 (Below) Antoine Laberge, Pierre's youngest
brother, was born on 13 May 1833 in
Châteauguay, Québec. He was buried there
on 04 Dec 1912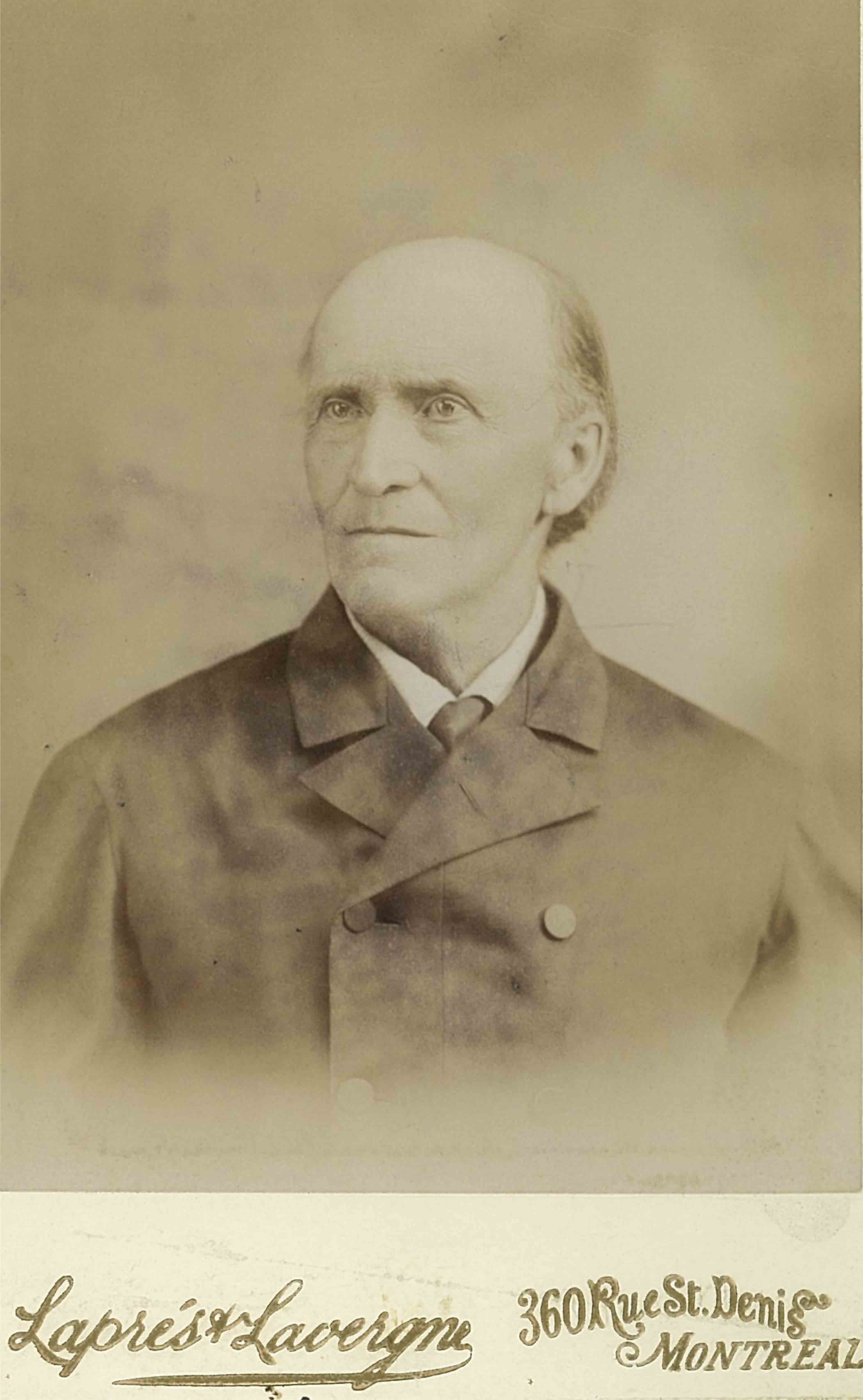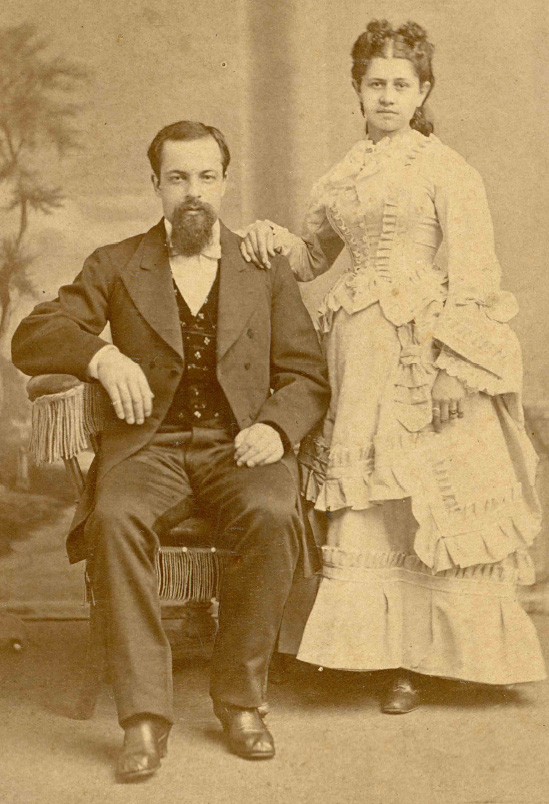 (L) Joseph Alphonse Trudel and Marie-Amelie (Mélina) Laberge, Armand's older step-sister. Mélina was the third child of Pierre Laberge
and Félicité Doumouchelle. Félicité died on
01 Nov 1855 and Pierre married Marie Hedwige Lewis on 08 Sep 1858. Armand Laberge was
the first of four children from that union. It
should also be noted that Alphonse is a
direct descendant of Jean Trudelle. It was
in Jean Trudelle's home on 18 Oct 1664
that the new parish of L'Ange-Gardien
was established and Robert Laberge was
in attendance. See the section below on
L'Ange-Gardien for the location of the Trudelle monument and it listing of the First Colonists.
The photo was provided by Marie-Claire
Provost and her (late) mother, Mélina
(Marie-Amelie) Laberge, residents of
Valleyfield, QC.
1882: On 17 Jul 1882, Armand Laberge was commissioned as a Corporal
1883: On 04 Sep 1883 he was commissioned as a Sergeant in that same
regiment. It is unknown if the tintypes below were taken in 1882 or 1883
and the other men in the photos. A reply from the State Historical Society of Missouri discusses the LaBerge family. StateHistoricalSocietyOfMissouri
The following is a description by Walter LaBerge of recollections by his
Aunt Helene (Armand's sister).
Tintype photos of Armand LaBerge.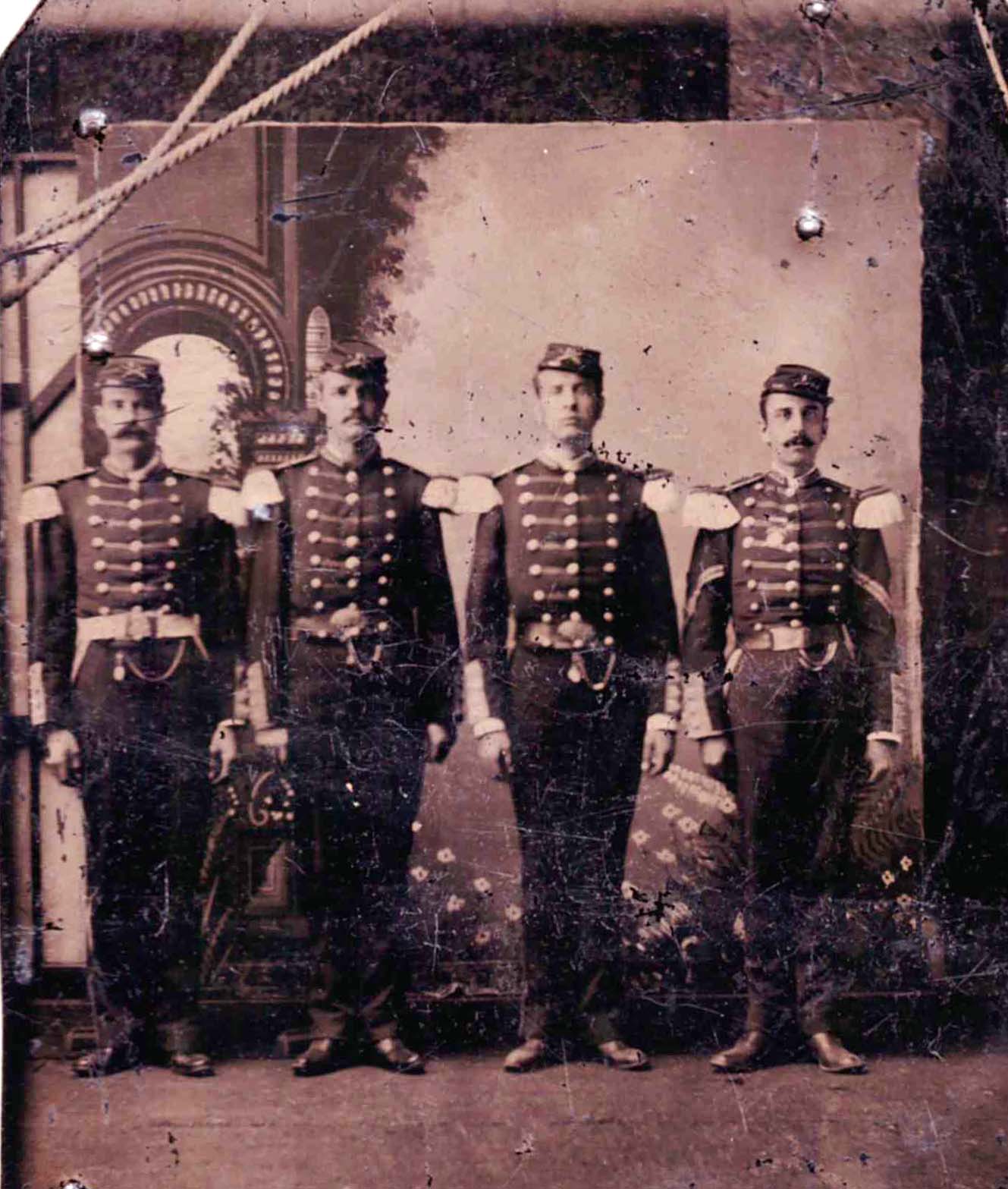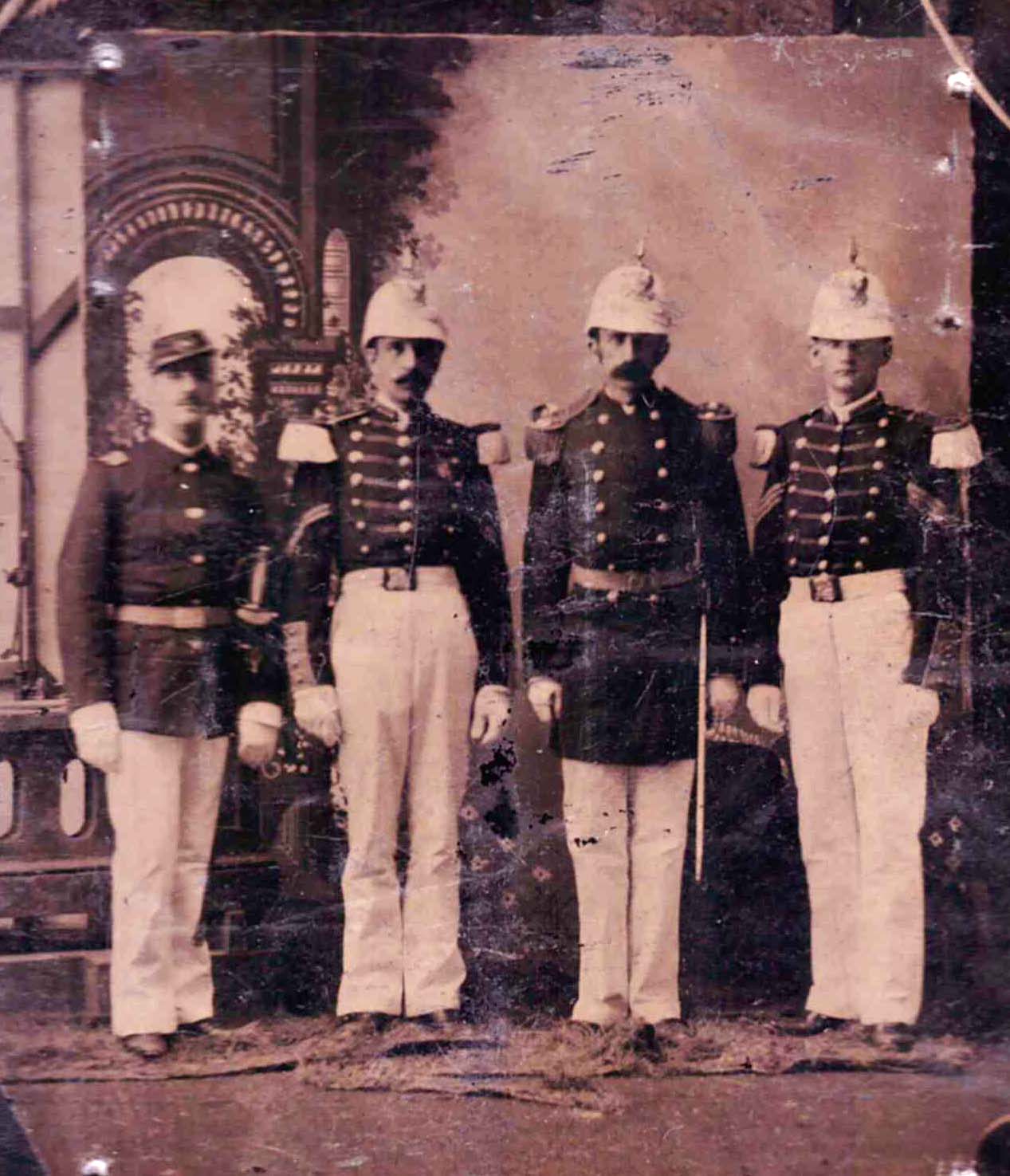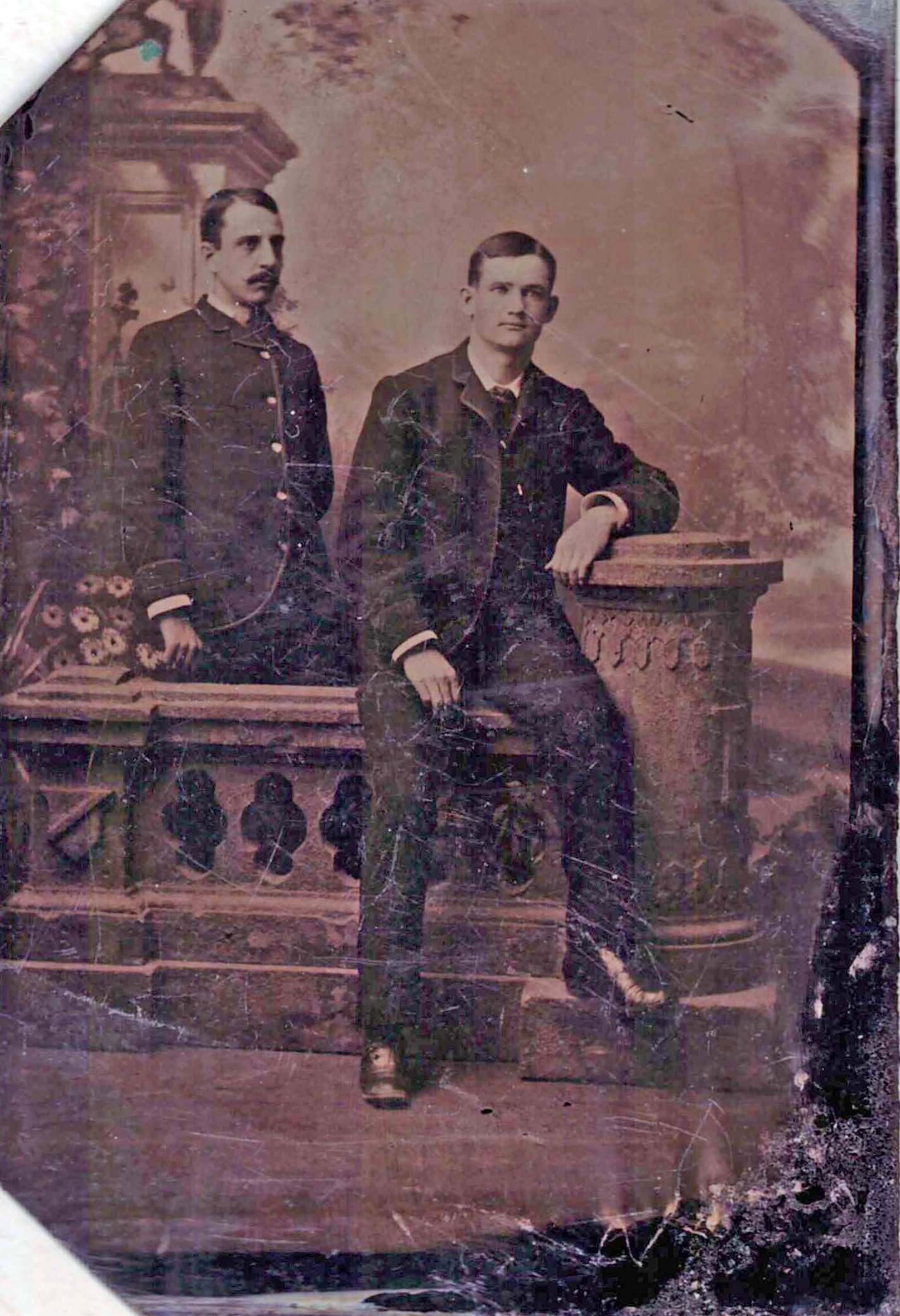 1887: Armand LaBerge leaves St. Joseph, Missouri for Chicago.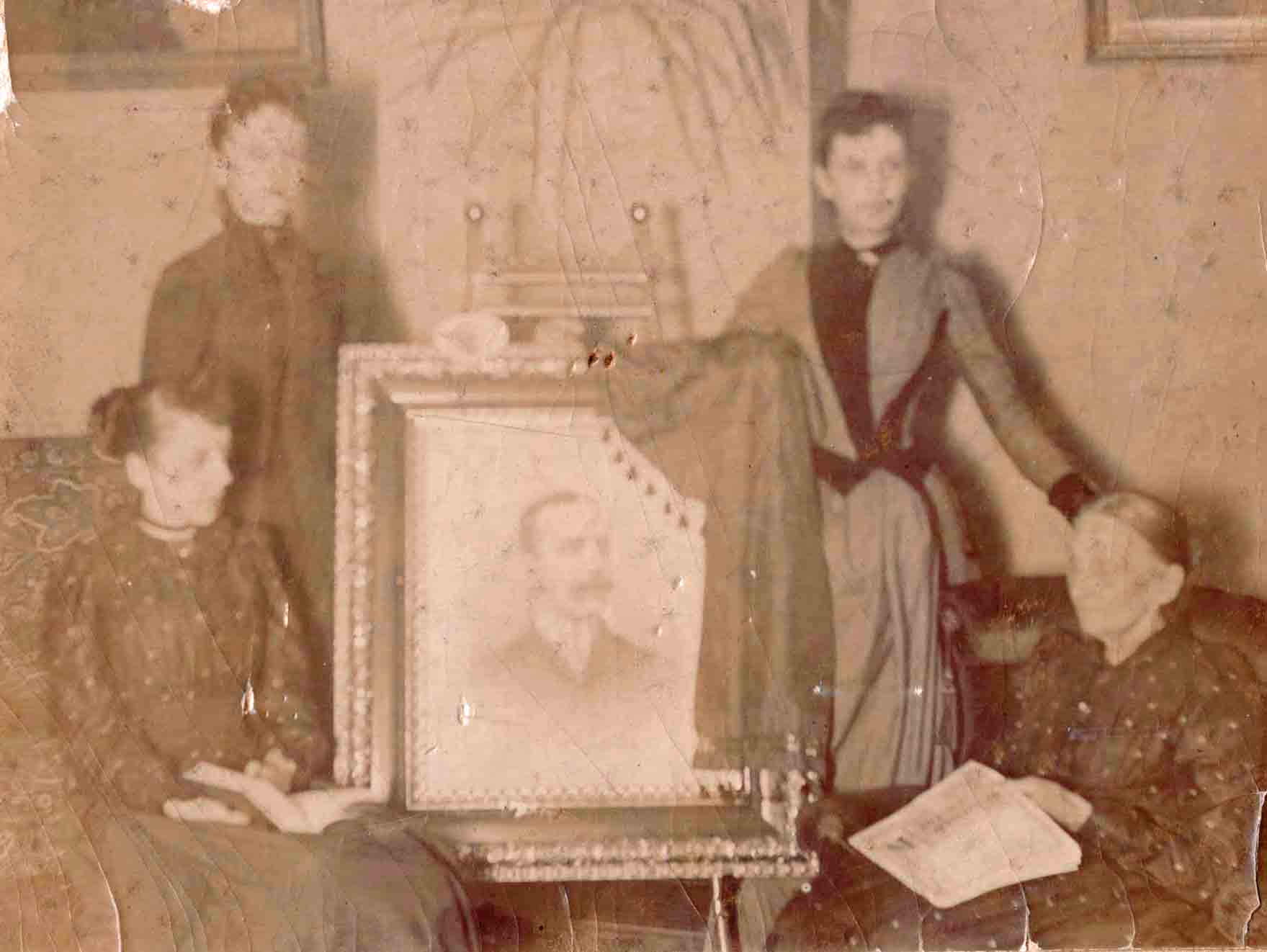 (R-L): Marie Hedwige Lewis
Laberge (wife of Pierre Laberge),
Marie-Ann (Virgie) Laberge,
portrait of Armand Laberge,
Marie Marguerite Rosa (Rose)
Laberge and Marie Hedwige
Laberge (daughter).
The portrait of son Armand Pierre Samuel Laberge was taken prior
about 1887 after Armand had left
St. Joseph, Missouri to work
in Chicago.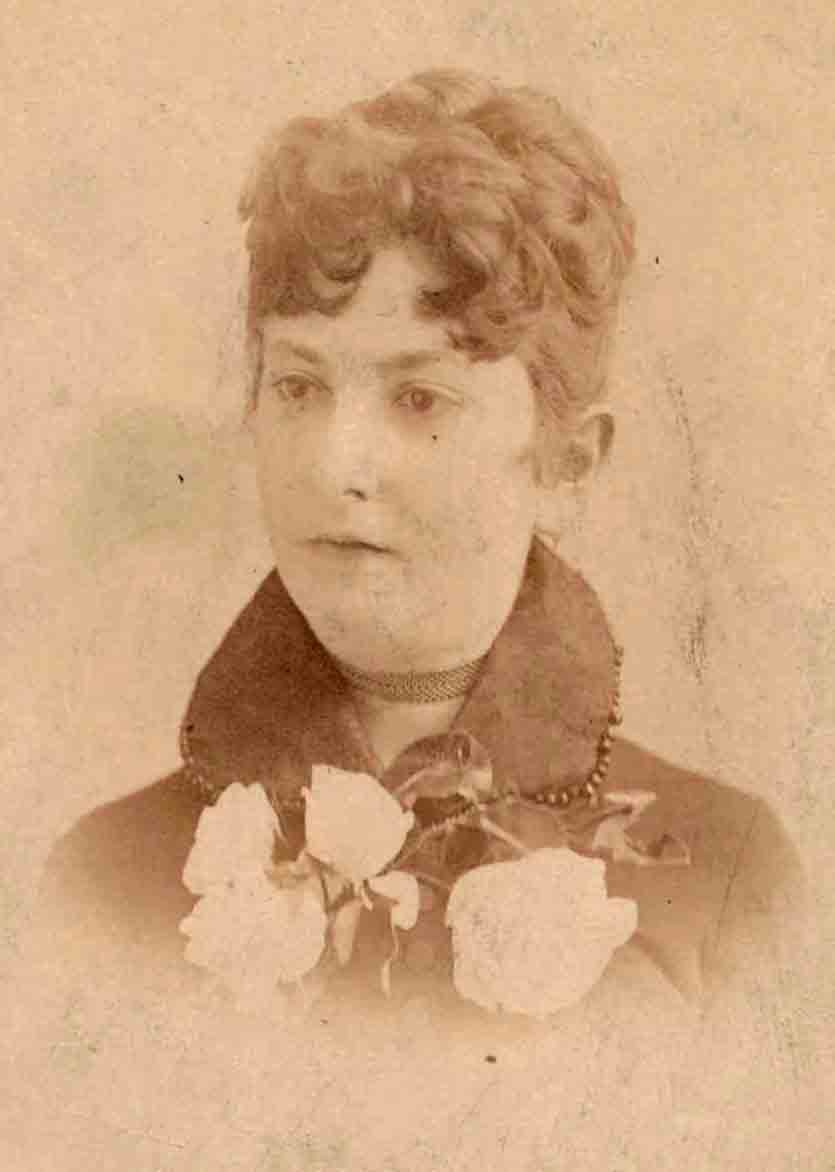 Picture taken of Rose Laberge in St. Joseph, Missouri.
Rose would later marry Matthew Osborne Cannfield (below)
in about 1888. In Oct 1898 their son Bertrand was born.
Late in 1899 they moved to Kansas City, Missouri.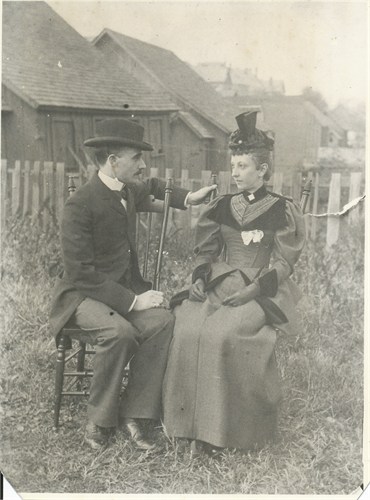 Rose's younger sister Virgie, who had married
William C. Harris, later lived with Rose &
Matthew Canfield and helped raise their son
Bertrand. In 1933 at the age of 63, Virgie
married John Philip Duke (age 77). In 1940
she visited Maywood and in 1941 Walter Coloney LaBerge went to Kansas City to close up her
affairs. She moved to Belvidere that year and
passed away in 1942.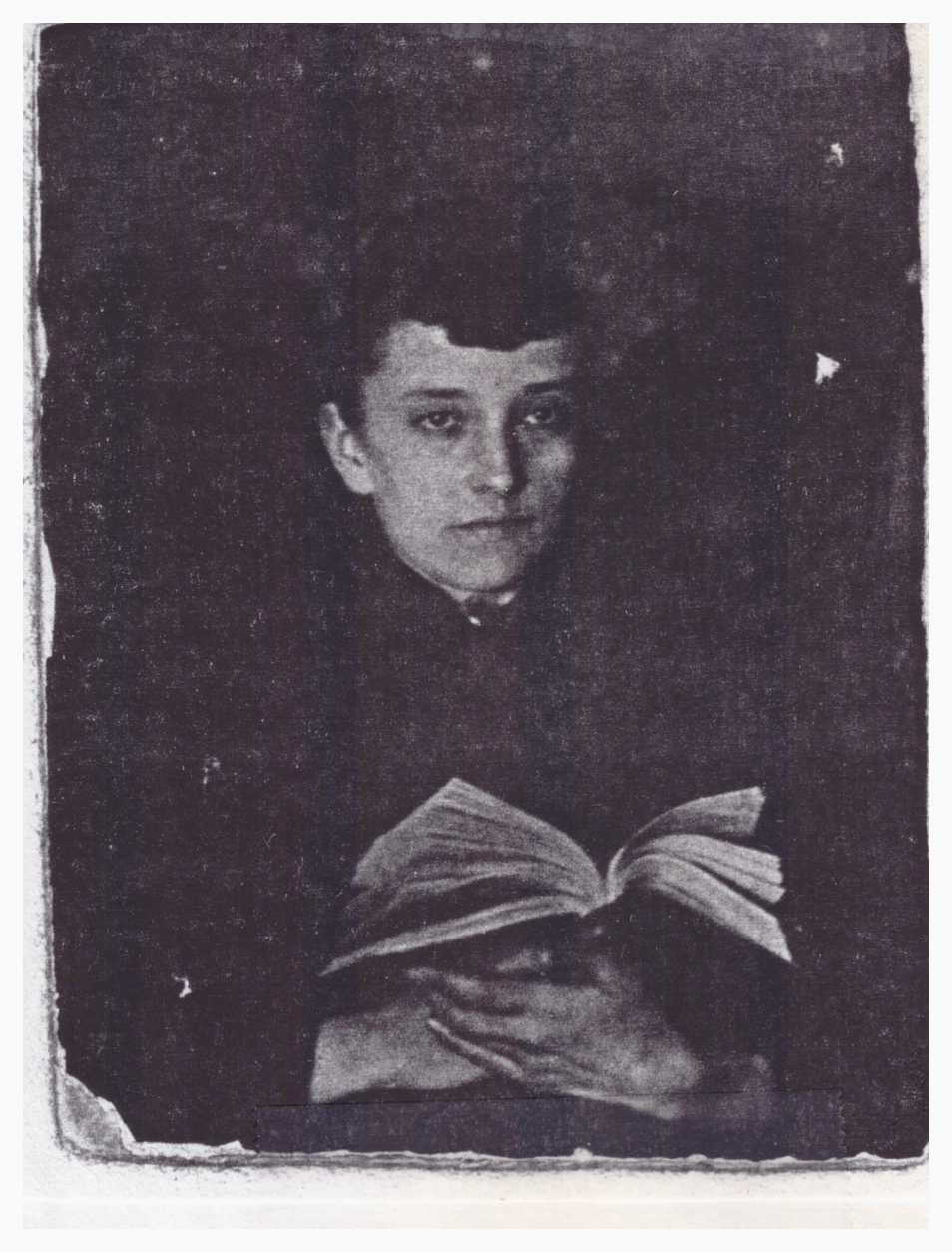 1890: Armand Pierre Samuel LaBerge marries Clara Minnesota Coloney on
September 11, 1890 in Chicago, Ill.
Helene Marie LaBerge (Walter C's younger sister) was born
on 05 Dec 1892 in Chicago, Illinois. She died on 13 Jan
1978 in San Diego, CA. She was a librarian and never
married. She was a member of the Daughters of the
American Revolution along with her mother, Clara Minnesota
Coloney due to the Coloney line tracing back to the Parkers
who fought in the revolution in Rhode Island. Photo taken in
1916.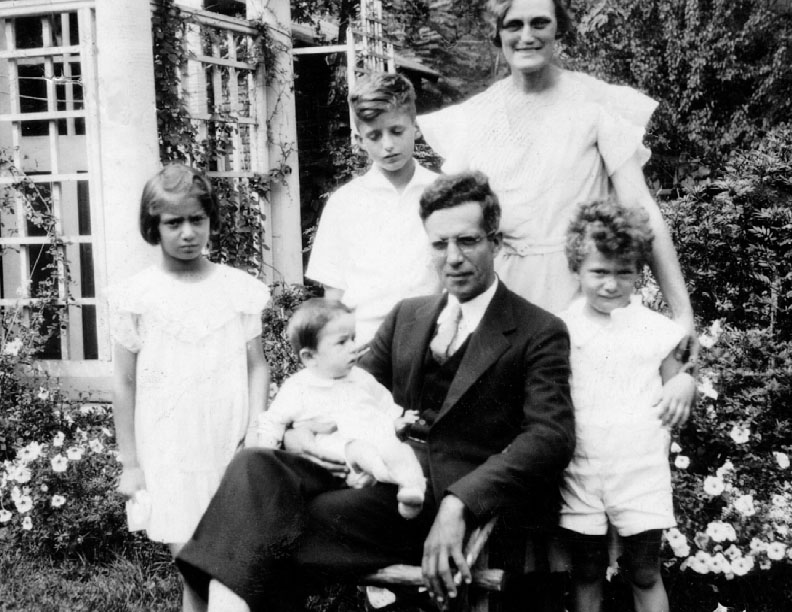 Family photo taken in
1935. (L-R) Helene Marie,
Pierre Robert, Walter Barber,
Walter Coloney, Marie June
Barber, and Edward Coloney LaBerge.
Marie June Barber's father, Eddie Barber, was a conductor on the Chicago
& Northwestern Railroad.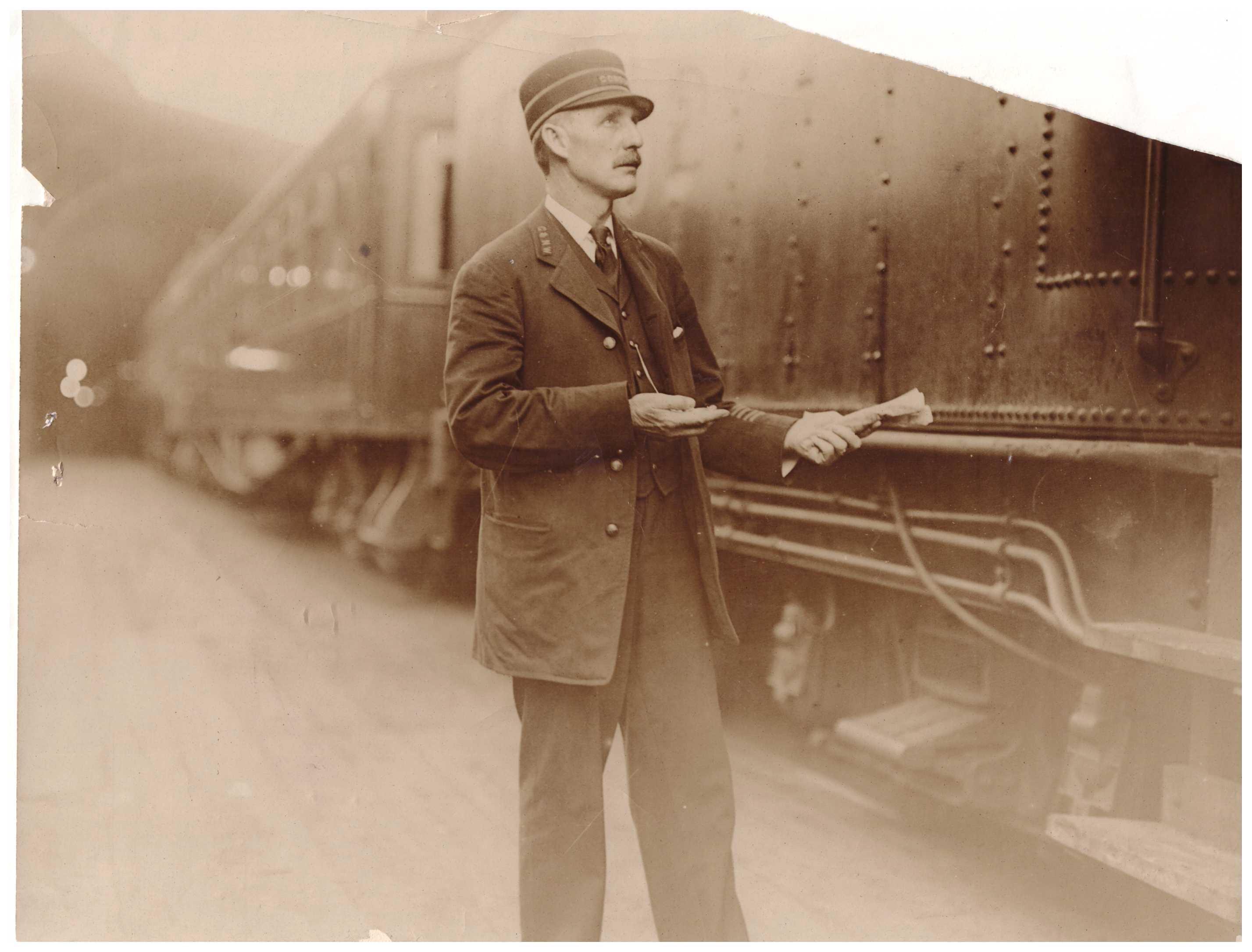 At the age of 7 years old, Walter Barber LaBerge had the opportunity
to ride with him in the locomotive, shovel coal into the firebox and pull
the whistle while going 60 miles per hour. It was one of the great thrills
of his life. The other was flying in the SR-71 at over Mach 3. Shown in
the photo is Walter in the cab of the locomotive.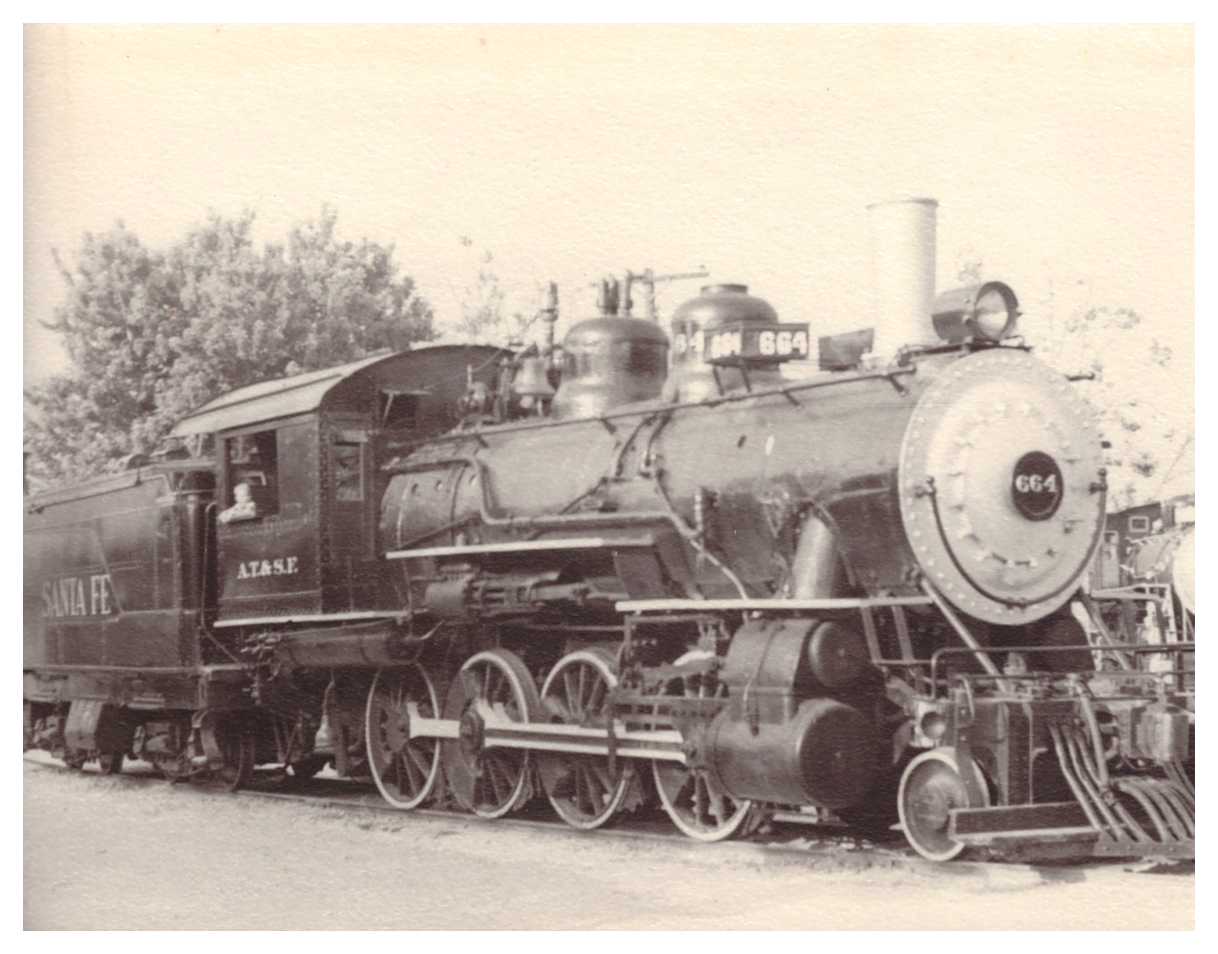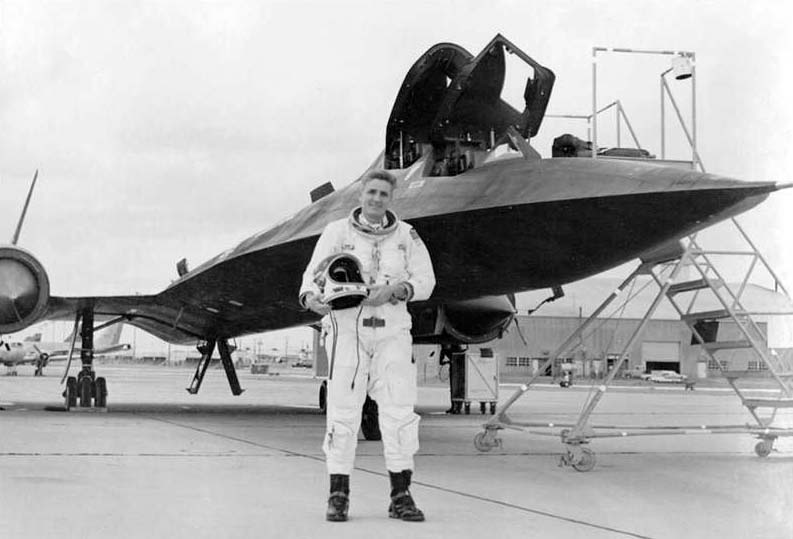 Walter LaBerge flew in the Lockheed SR-71 Blackbird. The plane is the fastest
plane in the world and he flew at an altitude of over 80,000 feet at a speed
of over Mach 3.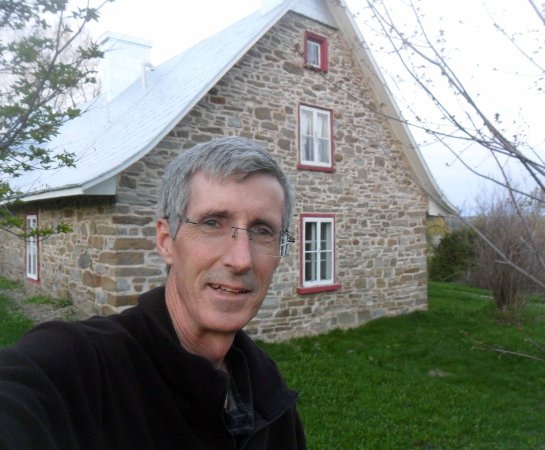 I am the 4th child of Walter Barber LaBerge and
Patricia Anne Sammon LaBerge. On June 13, 2011,
I purchased Maison Laberge and am its proud owner.