www.laberge.info
The Quinn Family
Line
John Quinn
B: 1819
Galway, Ireland
W: Mary MacGeaugh
B: 1824
Garston, Liverpool, England
Charles John Quinn
B: 06 Nov 1849
Garston, Liverpool, England
M: 24 ot 1880
Chicago, Ill
D: 1919
Chicago, Ill
W: Mary Jeffers
B: 1858
Inishgart, Ct. Mayo, Ireland
D: 1943
Chicago, Ill
William Martin Quinn
B: 21 Aug 1889
Chicago, Ill
D: 28 Dec 1969
Evanston, Ill
W: Helen Coffey
B: Chicago, Ill
James Edward Quinn
B: 27 Apr 1927
M: 01 Oct 1955
D: 02 Feb 2013
Sun Lakes, AZ
W: Maureen Joan Sammon
B: 02 Dec 1931
River Forest, Ill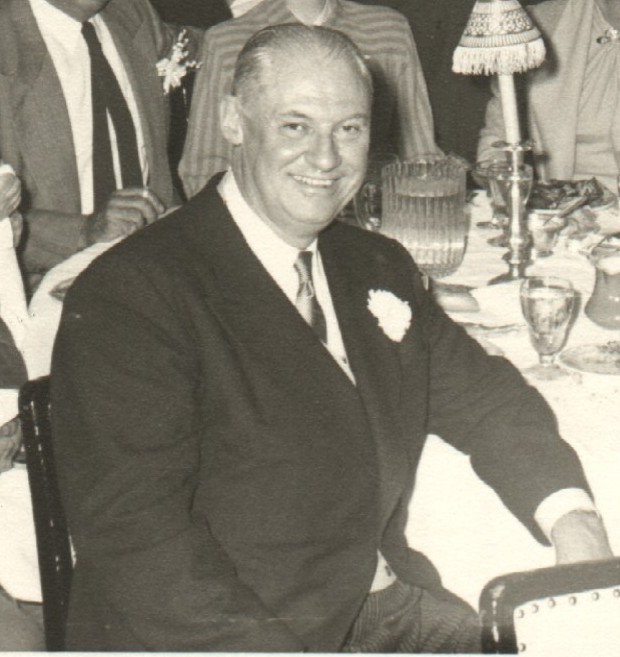 Howard (Bud) Sammon
B: 31 Aug 1897
Bayard, IA
M: 01 Sep 1924
Chicago, Ill
D: 26 Feb 1965
Palm Desert, CA
W: Marion Ruth Haggerty
B: 05 Mar 1902
Chicago, Ill
D: 18 Nov 1995
Lake Forest, Ill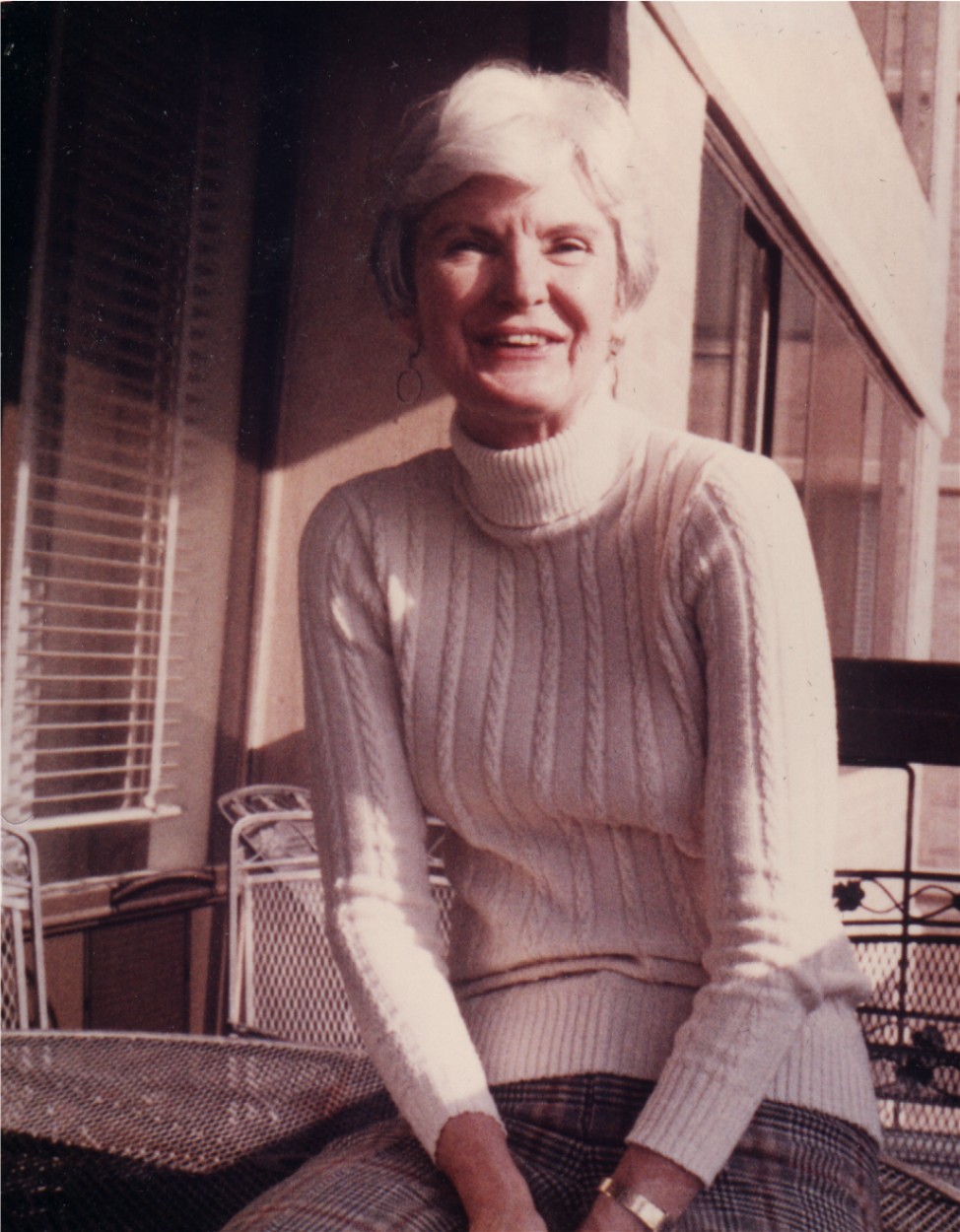 Patricia Anne Sammon
B: 31 Jul 1925
River Forest, Ill
M: 05 Sep 1949
River Forest, Ill
D: 20 Mar 1982
Aptos, CA
H: Walter Barber LaBerge
B: 29 Mar 1924
Chicago, Ill
D: 16 Jul 2004
Aptos, CA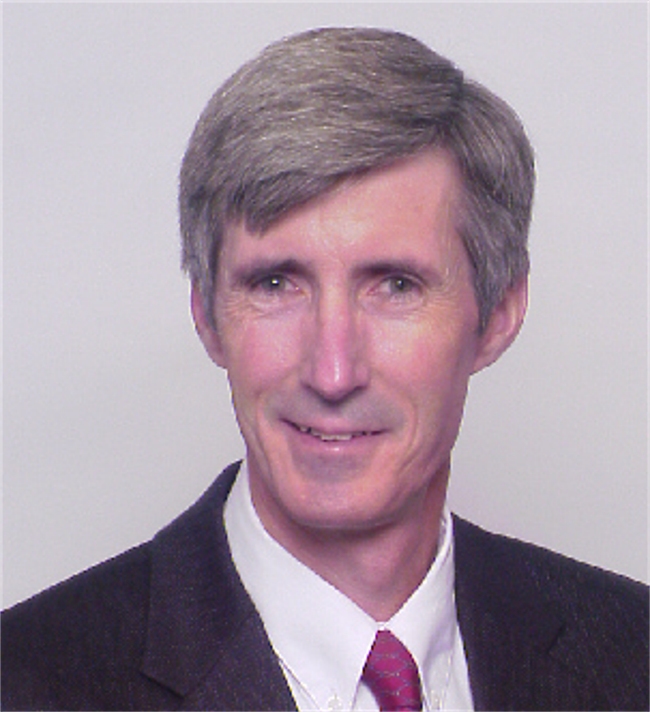 Philip Charles LaBerge
B: 2 Sept 1957
Palo Alto, California
W: Lois Elaine Foster
B: 23 June 1959
Midland, TX
Name: Philip Charles LaBerge
Father: Walter Barber LaBerge
Mother: Patricia Anne Sammon LaBerge
Aunt: Maureen Sammon Quinn
Quinn Family Line
The younger sister of my mother, Patricia Sammon LaBerge is Maureen Joan
Sammon Quinn. Her husband, who passed away recently was James Edward
Quinn. His father was William Martin Quinn who is shown in the photo below.
His grandfather was Charles (Charlie) John Quinn who was born on 06 Nov 1849
in Garston, Liverpool, England. He came to the the United States in 1849.

1819: John Quinn is born in Galway, Ireland
1849: On November 6th, Charlie Quinn is born in Garston, Liverpool, England.
Here is a brief biography:
1869: Charlie Quinn emigrates to the United States to
Chicago.
1873: Strong competition between Galveston and Houston, Texas
cause the citizens of Galveston to charter the Gulf, Colorado & Santa
Fe Railroad (GC&SF). The railroad line would reach across Texas into the
Panhandle, and across the state line to Santa Fe, NM.

1875: On May 1, construction starts on the GC&SF commences in Galveston
and tracks were completed to Arcola by March, 1877.
1879: On April 15, the company defaults on loans and the entire line was
sold at public auction and bought by George Sealy.
1880: On October 24th, Charlie Quinn and Mary Jeffers are married in
Chicago, Ill.
1881: In March, the GC&SF reaches a point 8 miles northwest of Belton.
In June, the town of Temple, TX is founded there and named after GC&SF
Chief Engineer, Bernard Moore Temple. Lots are put up for sale. According to
the Quinn Family History, Charlie Quinn "accepted a grant of one-quarter
of the town site of Temple in payment in lieu of cash" for his firm's laying
of railroad beds. He also purchased several thousand acres of land in
Galveston.
It is unknown what portion of the GC&SF Charlie Quinn's company laid
the railroad bed for, but if he was married in October 1880, one can assume
that it was the portion from Galveston to Arcola. After the company was
bought in 1879 by George Sealy, it makes sense that the unpaid debt on
contracts like Charlie Quinn's would have been paid by granting like when
the GC&SF reached Belton (Temple) in 1881.
1889: On August 21st, William Martin Quinn is born in Chicago, Ill.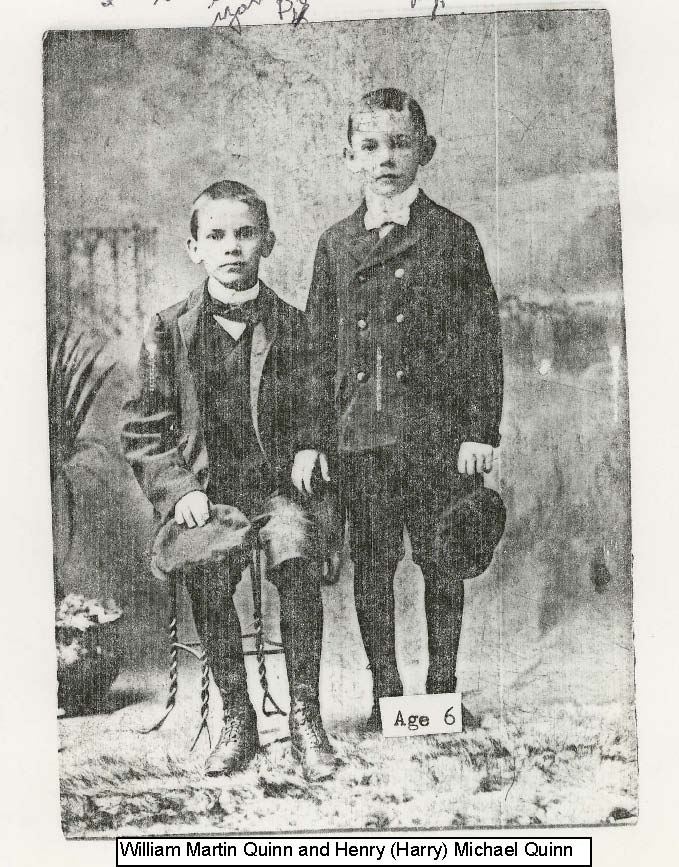 William Martin Quinn & Henry (Harry) Michael Quinn
Henry (Harry) Michael Quinn was a child prodigy and architect in Chicago.
Here is his biography with some e-mails. BiographyOfHarryMichaelQuinn
Shown to the right are Henry Martin Quinn and Henry (Harry) Michael Quinn.
1927: On April 27th, James Edward Quinn is born in Chicago, Ill.
1955: On October 1st, James Edward Quinn marries Maureen Joan Sammon.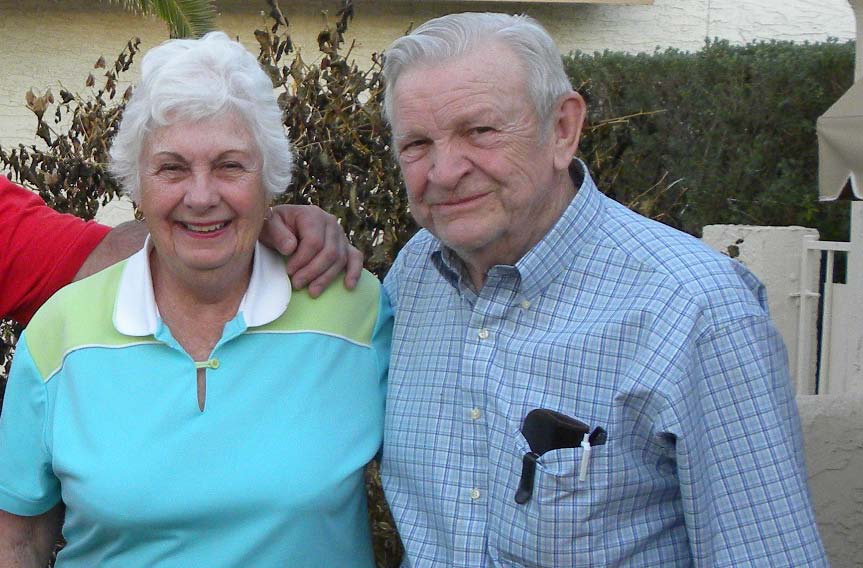 Maureen & Jim Quinn at their winter home in Sun Lakes, AZ
in January, 2011.