Françoise Gosse was the wife of Robert de la Berge.
She arrived in Québec in late April 1661 from Noyon in Picardie,
about 55 miles north east of Paris. On 12 September 1661 she married
Nicolas Durand. After Nicolas died unexpectedly on 01 April 1663, Françoise
Gosse (who had a 1 year old daughter) married Robert de la Berge on
28 May 1664.
Françoise Gosse dit Le Borgne - Robert's Wife
Les Filles à Marrier (1634 - 1663) A total of 262 women arrive.
Anne Boyer, was a Filles à Marrier who came over in 1657, four years before Françoise Gosse. She took the Le Taureau which we know was the boat
that Robert & Thomas took out of La Rochelle. Before the French government started sending over Filles du Roi, the Compagnie des Cent-Associés recruited marriageable young girls to start families with the many single men. About 262
of such girls were sent over between 1634 and 1663. They would sign a
marriage contract and then be given a dowry and passage to New France.
They could, upon arrival and meeting their intended, refuse to marry and be
sent back to France. Like Anne Boyer, Françoise Gosse was a Filles à Marrier.
Les Filles du Roi (1663 - 1678) A total of 768 women arrive.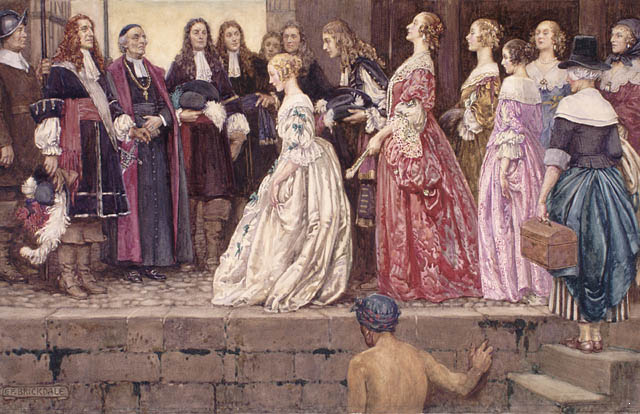 Arrival of the Brides in 1667, by Eleanor Fortescue-Brickdale Intendant
of Nouvelle France, Jean Talon, proposed to King Louis XIV to sponsor
passage of 500 women named Les Filles du Roi between 1663 and 1673.
It was recognized that the new country was not growing because of the
lack of women.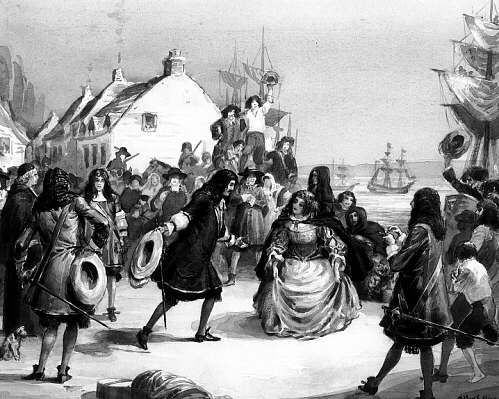 Robert de la Berge & Thomas Touchet arrived in August, 1658 on the
Le Taureau from La Rochelle.

Françoise Gosse arrived in late April, 1661. Four ships arrived within
about a week of each other: The Le Taureau out of La Rochelle,
the La Marie, La Marguerite, and the Saint-Pierre out of Rouen.
Pierre-Lionel LaBerge believes that she took the Saint-Pierre because
Noyon was close to Rouen and its captain was from nearby Amiens.
She could also have taken the Le Taureau out of La Rochelle which
was the boat Robert & Thomas took which Anne Boyer and other
Filles à Marrier took.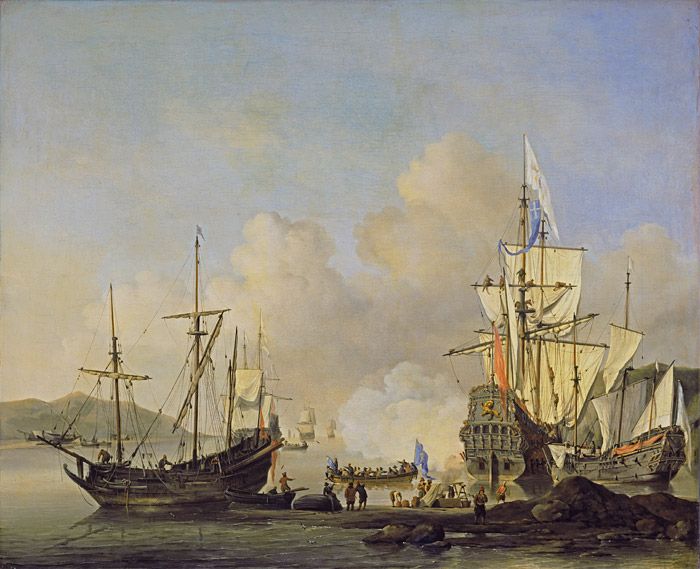 French Merchant Ships at Anchor, c. 1670, Willem II van de Velde
In 1658, Robert de la Berge and Thomas Touchet, arrived on the Le Taureau.
In March of 1665 the boat was sold to La Compagnie des Indes Orientales and
in July of that year it arrived at Saint-Paul on Reunion Island off the coast
of Madascar on the east coast of Africa.