Thomas Touchet was Robert de la Berge's step-brother. Thomas was 16 years
older than Robert. His mother was Marie Potevin and his father was Jacques
Touchet. After his father died, his mother married Jacques de la Berge on
May 8, 1638. They then had three sons, Robert, Abraham and Guillaume.
It was Thomas Touchet, who after having first gone to Québec in 1644,
returned to find a wife in 1653 (because of the scarcity of females in Nouvelle
France at the time.) When he returned to Québec for the second time in
1658 (with his new wife and child), he convinced Robert to do the same.
From Pierre-Lionel LaBerge's book translation, p. 158 describing Thomas'
work as a very skilled carpenter.
Thomas Touchet sojurns in New France between 1649 and 1653
The honorable Nicolas Juchereau, Sieur de Saint-Denis, had certainly seen
the house which Rouillard-Touchet and associates had built for Noël Morin,
and could appreciate the quality of their work. That is why he contracted
them on December 4, 1650, for the construction of a house 40 feet long and
20 feet wide, inside measurement, with a half-timbered wall in the middle
to separate the two rooms. The price was 300 livres tournois, plus one barrel
of bacon,and four pots of wine, the work was scheduled to be completed at
the end of August, 1651.
In 1702, Nicolas Laberge contracted with Charles Juchereau de Saint-Denis,
son of Nicolas Juchereau and older brother of Louis Juchereau de Saint-Denis,
to go to the Mississippi to start a tannery.
He built an addition to the Guillaume Couillard house. Guillaume Couillard
was one of the first families of Québec as mentioned above.
Thomas Touchet took advantage of his voyage to Québec to conclude on the
same day another contract with Guillaume Couillard, bourgeois, one of the first
residents of Québec. He agreed to build an extension at the end of his house,
18 feet in length, and the same width as the house, with a double chimney
mantel, for the sum of 150 livres tournois.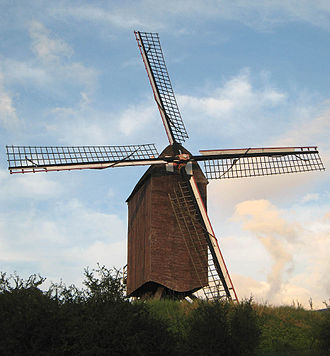 Shown above is a wood windmill which was built in 1767 in Esplehin,
Belgium near Tournai and then later moved to Woluwe on the outscirts
of Brussels.
Thomas Touchet helped build a wood windmill in Neuville south of Québec
City in 1672 as described on page 263, item 3 of Pierre-Lionel's book
translation. It would have been similar to the one shown above.